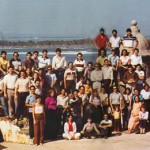 Class composites and photos can now be viewed online. Want to see more great photos? Send us your photos of your school days, anniversaries, reunions or more recent events!
Unfortunately, we don't have photos of all classes and some original composites have been lost. But you can collaborate and send some to alumnimed.rcm@upr.edu
[ Gallery ]
Click photos to enlarge
If you see your photo on this page and would like to have it removed, please e-mail alumnimed.rcm@upr.edu. Please provide your class year.
Thank you!