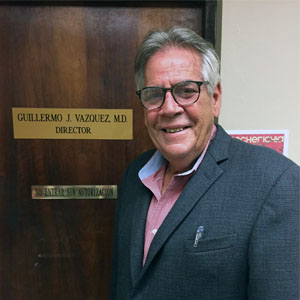 Guillermo J. Vázquez, M.D.
On behalf of the faculty and staff from the Department of Microbiology and Medical Zoology, University of Puerto Rico, School of Medicine, I welcome you to our homepage.
The Department offers a broad range of research and teaching activities in the area of medical microbiology, zoology and immunology. In addition to our graduate school courses, our faculty members are directly responsible for the teaching of microbiology to medical, dental, pharmacy and medical technology students.
Our Master in Science (M.S.) and Doctor in Philosophy (Ph.D.) programs have been the backbone of our research activities. Areas of active basic research include: molecular and classical parasitology, immunology, bacteriology and antibiotics resistance, virology (including Dengue, influenza, chikungunya, ZIKA, AIDS and neuro-AIDS related research), vaccine development, mycology, and fungal aerobiology, microbial genetics and physiology.
Our faculty and graduate students have published their scientific research in prestigious journals and won, in several occasions, important scientific competitions and fellowship awards.
I invite you to browse through our homepage and learn more about our Department, its objectives and academic program.
Thank you for visiting our homepage.
Guillermo J. Vázquez, M.D.
Chair 1997-2020
Click here to visit Interim Chair homepage
Filipa Godoy-Vitorino, Ph.D. (2020-present)