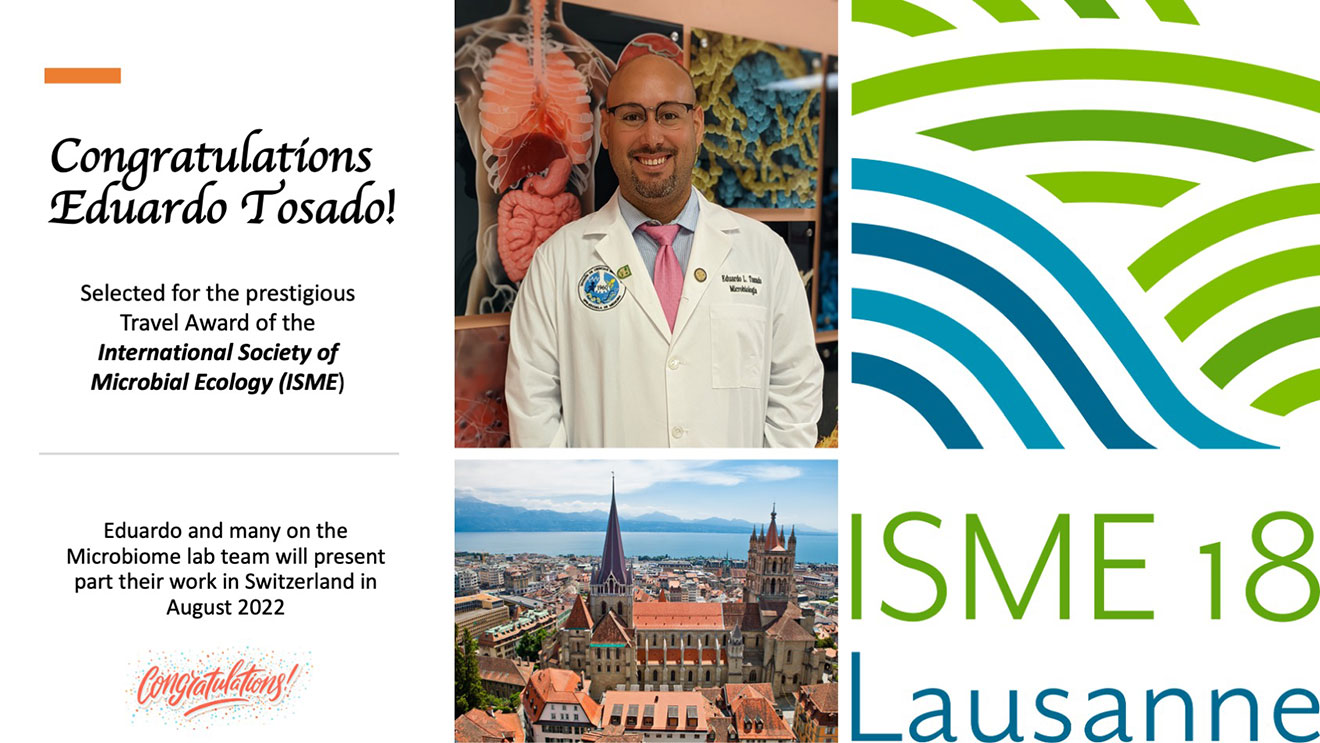 Felicitamos al estudiante doctoral del Departamento de  Microbiologia al Sr. Eduardo Tosado, por ser recipiente del Travel Award de la Sociedad Internacional de Ecologia Microbiana (ISME), para participar en el mayor congreso de Ecologia Microbiana, que tendrá lugar en Lausanne, Suiza en Agosto 14-19 2022. Puerto Rico estará representado por varios estudiantes del laboratorio de Microbioma dirigido por la Dra Filipa Godoy, quien tambien será Chair del Simposio de Microbioma Humano en dicha conferencia.
https://isme18.isme-microbes.org/human-microbial-ecology
Trabajos a ser presentados:
Eduardo Tosado (Ph.D. student): Alterations in cervicovaginal fungal and bacterial communities associate with changes in cervical neoplasia, HPV infection and body mass index in a cohort of Caribbean women
Natalie Melendez (Ph.D. student):Gut microbial changes related to the efficacy of Delta-24-RGDOX viroimmunotherapy against glioblastoma
Elif Kardas (Intercampus PhD Student) Host phylogeny and ecology structure the algae-associated microbiota in Puerto Rico
Anelisse Dominicci-Maura (Undergraduate student): Epibiont ecology associated to the spikes of Caribbean Sea urchin species
Marieli Ruiz-Cortes (Undergraduate student RUM) Characterization of rumen and hindgut microbial communities in slick and wild type Holstein calves in a tropical climate
Diego Perez (Undergraduate student Comp Sci): Differences in the phyllosphere microbiota between invasive and native seagrasses in the Caribbean
¡Adelante!