Dr. Filipa Godoy Vitorino
Chair Dept. Microbiology and Medical Zoology
Associate Professor and PI Microbiome Lab
EDUCATION
B.S Biology (Licentiate's degree before EU's Bologna reforms), Faculdade de Ciências da Universidade do Porto, Portugal, 2002
EU Socrates Erasmus Programme Fellow, Center for Marine Biotechnology, Applied Algology group, University of Las Palmas (ULPGC), Canary Islands, Spain, 2002.
Ph.D. Biology (Microbial Ecology), University of Puerto Rico Rio Piedras, Puerto Rico, 2009
Postdoctoral Fellow in Metagenomics, National Science Foundation. US DOE – Joint Genome Institute, Walnut Creek, California, 2009-2012
Mission and Field of Interest
GODOY Lab's Mission
The UPR Microbiome Lab's mission, is to translate microbial ecology to improve human health, and empower education in the microbial sciences, by studying microbiomes -including dynamics and functions of microbial communities. We aim at understanding the coevolution of microbes with their hosts, the symbiotic mechanisms underlying microbial community establishment, resilience, and persistence, as well as the processes of dysbiosis leading to disease phenotypes. By integrating multiple Omics approaches and scientific fields, we intend to reveal multi-kingdom biodiversity underlying microbiome-driven malignancies. We work at the interface of ecology, physiology, and bioinformatics to address broad questions on host-microbiome interactions. Our lab's commitment is also to educate about the microbiome, and propose ways to conserve microbes for the benefit of future generations. Our lab favors close mentoring, scholarship and teamwork, while offering appropriate opportunities for independent work and recognition.
Field of Interest: Microbiome, Microbial Community Ecology, Metagenomics, Host-Microbe interactions, NGS, Bioinformatics
Besides performing comparative microbial surveys (amplicon sequencing of bacteria and fungi), we also perform shotgun metagenomics, comparative genomics and single cell genomics. Our lab has made significant contributions to the field of animal microbiomes, studying the hoatzin – a South American florivorous bird – as well as other animals. Currently we characterize microbiomes to understand the evolution, transmission, and functions of host-microbe symbiosis and to dissect dysbiotic phenotypes. Current areas of research include: 1) understanding the correlation between HPV and the cervicovaginal, anal and oral microbiomes in Puerto Ricans; 2) relating gut microbiome Alzheimer's 3) exploring the role of the microbiome on the onset of T1D in children; studying oral microbiome and periodontitis and understand the role of the gut microbiome in modulation immune therapy success in solid tumors. Other ongoing projects include the characterization microbiomes of natural ecosystems (marine, forest, invertebrates etc).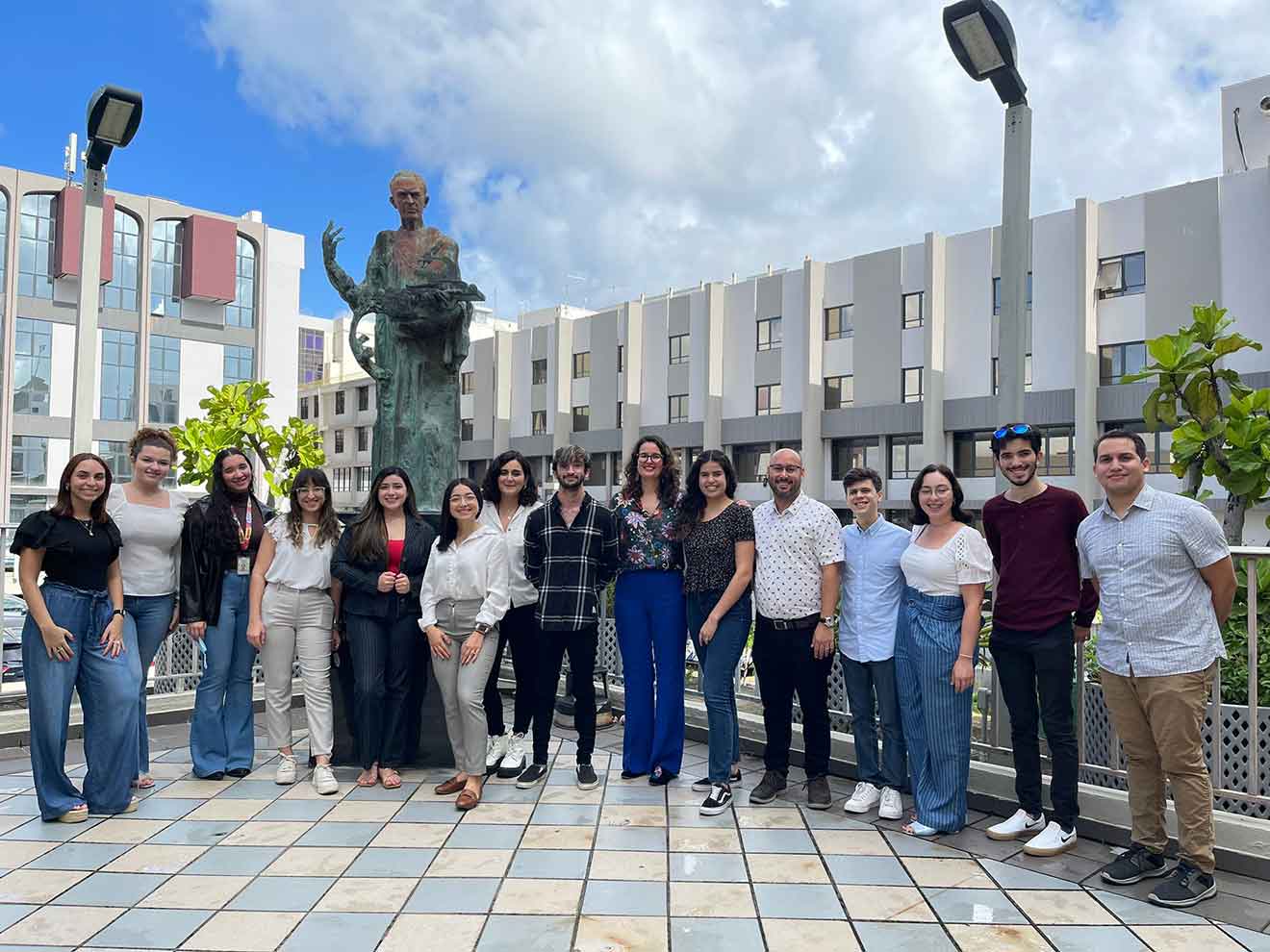 SELECTED PEER REVIEWED PUBLICATIONS 2018-2020
Abarca JG, Zuniga I, Ortiz-Morales G, Lugo A, Viquez-Cervilla M, Rodriguez-Hernandez N, Vázquez-Sánchez F, Murillo-Cruz C, Torres-Rivera EA, Pinto-Tomás AA and Godoy-Vitorino F (2018) Characterization of the Skin Microbiota of the Cane Toad Rhinella cf. marina in Puerto Rico and Costa Rica. Front. Microbiol. 8:2624. doi: 10.3389/fmicb.2017.02624 PMID: 29354109 PMCID: PMC5760547
Ortiz,G., Chorna,N., Romaguera ,J.,Martinez-Ferrer,M., Sanchez,M.,Ortiz,A.P., White,J.R., Guerrero-Preston,R. and Godoy-Vitorino, F., Cervical microbiota and the urinary metabolome in patients with high-risk and low-risk HPV infections, Cancer Research 78 (13 Supplement), 3267-3267 ([abstract]. In: of the 109th Annual Meeting of the American Association for Cancer Research; 2018 Apr 14-18; Chicago, Illinois. Philadelphia (PA): AACR; 2018.Abstract nr 3267)
Guerrero-Preston,R., Navarro,K., Godoy-Vitorino,F, White, J., Jedlicka,A., Rivera-Alvarez,G.,Mora-Lagos,B., Timp, W., Westra, W., Koch, W.,Marchionni, L., Kim, Y.,Sidransky, D., High-resolution microbiome profiling of 16SrRNA sequencing data, Microbiome Arrays and Expression Arrays identify differential bacterial communities in head and neck cancer patients treated with surgery, chemo-radiation and PD-1 checkpoint blockade therapy, Biomarkers predictive of therapeutic benefit , Cancer Research 78 (13 Supplement), 570-570 (In: of the 109th Annual Meeting of the American Association for Cancer Research; 2018 Apr 14-18; Chicago, Illinois. Philadelphia (PA): AACR; 2018.Abstract nr 570)
Ortiz-Maldonado, Y., Godoy-Vitorino, F. and Restrepo,C., Landsliding and rhizobiota link the short- and long-term carbon cycles,  Geophysical Research Abstracts Vol. 20, EGU2018-17124, 2018 EGU General Assembly 2018
Vargas-Robles, D., Magris, M., Morales, N., de Koning, M.N., Rodriguez, I., Nieves, T., Godoy-Vitorino,F., Sanchez, G., Alcaraz, L.D., Forney, L., Pérez,M.E., García-Briceño, L., van Doorn,L.J., Dominguez-Bello,M.G., High infection by only oncogenic Human Papillomavirus in Amerindians, mSphere,3:e00176-18. https://doi.org/10.1128/mSphere.00176-18. PMID: 29720524, PMCID:PMC5932372
Godoy-Vitorino, F. and Toledo-Hernandez, C. (2018) Reef building corals as a tool for climate change research in the genomics era. In M. Kloc, J. Z. Kubiak (eds.), Marine Organisms as Model Systems in Biology and Medicine, Results and Problems in Cell Differentiation 65,Chapter 23 , ISBIN 978-3-319-92485-4, https://doi.org/10.1007/978-3-319-92486-1_23, PMID:30083934
van Schooten, B., Godoy-Vitorino, F., McMillan, W. O. and Papa, R. (2018), Conserved microbiota among young Heliconius butterfly species, Oct 2;6:e5502. doi: 10.7717/peerj.5502. eCollection 2018. PMID:30310733
Godoy-Vitorino, F., Romaguera, J.E., Zhao, C., Vargas-Robles, D., Ortiz-Morales, G., Vázquez-Sánchez, F., Sanchez-Vázquez M, de la Garza-Casillas M, Martinez-Ferrer M, White JR, Bittinger K, Dominguez-Bello MG and Blaser MJ (2018). Cervicovaginal fungi and bacteria associated with cervical intraepithelial neoplasia and high-risk Human Papillomavirus infections in a Hispanic population. Front Microbiol. 2018 Oct 23;9:2533. doi: 10.3389/fmicb.2018.02533. eCollection 2018. PubMed PMID: 30405584; PubMed Central PMCID: PMC6208322.
Godoy-Vitorino F, Ortiz-Morales G, Romaguera J, Sanchez MM, Martinez-Ferrer M, Chorna N (2018) Discriminating high-risk cervical Human Papilloma Virus infections with urinary biomarkers via non-targeted GC-MS-based metabolomics. PLoS ONE 13(12): e0209936. doi: 10.1371/journal.pone.0209936,  eCollection 2018. PMID:30592768
Dominguez-Bello MG, Godoy-Vitorino F, Knight R, Blaser MJ. Role of the microbiome in human development. Gut. 2019 Jan 22;0:1–7;  pii: gutjnl-2018-317503. doi: 10.1136/gutjnl-2018-317503, PMID: 30670574
Soares-Castro P, Araújo-Rodrigues H, Godoy-Vitorino F, Ferreira M, Covelo P, López A, Vingada J, Eira C, Santos PM. Microbiota fingerprints within the oral cavity of cetaceans as indicators for population biomonitoring. Sci Rep. 2019 Sep 23;9(1):13679. doi: 10.1038/s41598-019-50139-7. PMID: 31548611
Chorna, N., Romaguera,J and Godoy-Vitorino, F*. Cervicovaginal Microbiome and Urine Metabolome Paired Analysis Reveals Niche Partitioning of the Microbiota in Patients with Human Papilloma Virus Infections, Metabolites 2020, 10(1), 36; https://doi.org/10.3390/metabo10010036 .*senior corresponding author.

Felix Rivera-Mariani, Summer Pellechio, Hayat Srour, Ruslan Fomenko, Benjamin Bolanos, Filipa Godoy-Vitorino, Kerry Kinney, Juan Maestre, Humberto Cavallin,

 Dose-Response of the Pro-Inflammatory Potential Induced by Indoor Settled Dust from Homes with Different Levels of Water-Damage during Hurricane Maria in San Juan, Puerto Rico, 

J ALLERGY CLIN IMMUNOL

 

Volume 145, Issue 2, Supplement, Page AB127, DOI: 

https://doi.org/10.1016/j.jaci.2019.12.50

Hayat Srour, Summer Pellechio,Ruslan Fomenko, Benjamin Bolanos, Filipa Godoy-Vitorino, Juan Maestre, Kerry Kinney, Humberto Cavallin

Associations between Upper Respiratory Symptom Scores of Puerto Rican Residents, Pro-Inflammatory Potential of Indoor Settled Dust, and Level of Water Damage to Homes during Hurricane Maria, 

February 2020 Volume 145, Issue 2, Supplement, Page AB130, DOI: 

https://doi.org/10.1016/j.jaci.2019.12.51

Hayat Srour, Summer Pellechio,Ruslan Fomenko, Benjamin Bolanos, Filipa Godoy-Vitorino, Juan Maestre, Kerry Kinney, Humberto Cavallin

IL-1b, IL-6, and IL-8-inducing Potential of Indoor Settled Dust from Homes One and Two-Years Post-Hurricane Maria in San Juan, Puerto Rico,

 J ALLERGY CLIN IMMUNOL

 

Volume 145, Issue 2, Supplement, Page AB127, DOI: 

https://doi.org/10.1016/j.jaci.2019.12.509

Xavier JB, Young VB, Skufca J, Ginty F, Testerman T, Pearson AT, Macklin P, Mitchell A, Shmulevich I, Xie L, Caporaso JG, Crandall KA, Simone NL, Godoy-Vitorino F, Griffin TJ, Whiteson KL, Gustafson HH, Slade DJ, Schmidt TM, Walther-Antonio MRS, Korem T, Webb-Robertson BM, Styczynski MP, Johnson WE, Jobin C, Ridlon JM, Koh AY, Yu M, Kelly L, Wargo JA.

The Cancer Microbiome: Distinguishing Direct and Indirect Effects Requires a Systemic View.

 Trends Cancer. 2020 Mar;6(3):192-204. doi: 10.1016/j.trecan.2020.01.004. Epub 2020 Feb 7. Review. PMID: 32101723

Derilus D, Godoy-Vitorino F, Rosado H, Agosto E, Dominguez-Bello MG, Cavallin H (2020) 

An in-depth survey of the microbial landscape of the walls of a neonatal operating room

. 

PLoS ONE 15(4): e0230957. 

https://doi.org/10.1371/journal.pone.0230957

, PMID: 32243474

Ortiz Y, Restrepo C, Vilanova-Cuevas B, Santiago-Valentin E, Tringe SG, Godoy-Vitorino F(2020) 

Geology and climate influence rhizobiome composition of the phenotypically diverse tropical tree Tabebuia heterophylla

. PLoS One. 2020 Apr 7;15(4):e0231083. 

https://doi.org/10.1371/journal.pone.0231083

; eCollection 2020; PMID: 32255799

Rodríguez-Barreras R, Godoy-Vitorino F. DNA metabarcoding unveils niche overlapping and competition among Caribbean sea urchins. Regional Studies in Marine Science. 2020 November; 40(101537). doi: https://doi.org/10.1016/j.rsma.2020.101537.https://www.sciencedirect.com/science/article/abs/pii/S2352485520306654?via%3Dihub
Rosado PM, Godoy-Vitorino F, Vivaldi JA, Ortiz AP, Ramos-Cartagena J, Pérez CM. Lifestyle risk factors for oral and oropharyngeal cancers in patients attending sexually transmitted infection clinics in Puerto Rico. Cancer Epidemiology, Biomarkers & Prevention. Twelfth AACR Conference on the Science of Cancer Health Disparities in Racial/Ethnic Minorities and the Medically Underserved; 2020 May; San Francisco, CA, USA. AACR; c2020. https://cebp.aacrjournals.org/content/29/6_Supplement_2/C025 DOI: 10.1158/1538-7755.DISP19-C025
Vargas-Robles, D., Morales,N., Rodríguez, I., Nieves,T., Godoy-Vitorino, F., Alcaraz, L.D., Pérez, M.E., Ravel,J., Forney, L.J., Domínguez-Bello, M.G., (2020) Vaginal microbiota changes across a gradient of urbanization, Scientific Reports  2020 Jul 27;10(1):12487. doi: 10.1038/s41598-020-69111-x. PMID: 32719372, PMCID: PMC7385657
Godoy-Vitorino F. Understanding the role of microbiomes in the development of HPV-cervical cancer. Gynecol Pelvic Med 2020;3:7; doi: 10.21037/gpm-2020-hpv-02 http://gpm.amegroups.com/article/view/5951/html 
Josefina Romaguera, Filipa Godoy-Vitorino,  Cervical dysplasia is associated with increased levels of hydrogenotrophic methanogens, 2020 ASCCP Oral Presentations, Journal of Lower Genital Tract Disease April 2020 – Volume 24 – Issue 1S – p S1-S8 doi: 10.1097/LGT.0000000000000537
Filipa Godoy-Vitorino, Cynthia Perez, Kimil Acosta, Brayan Vilanova, Jeslie Ramos-Cartagena, Jose Vivaldi, Ana P. Ortiz. Oral microbiota associated to periodontal disease as a risk factor for oropharyngeal cancer, in patients from sexually transmitted infection clinics in Puerto Rico [abstract]. In: Proceedings of the AACR Special Conference on the Microbiome, Viruses, and Cancer; 2020 Feb 21-24; Orlando, FL. Philadelphia (PA): AACR; Cancer Res 2020;80(8 Suppl):Abstract nr A36.April 2020 DOI: 10.1158/1538-7445.MVC2020-A36 https://cancerres.aacrjournals.org/content/80/8_Supplement/A36.short?rss=1
Filipa Godoy-Vitorino, Josefina Romaguera. Methanobrevibacter is associated with cervical dysplasia in Hispanics with HPV infections [abstract]. In: Proceedings of the AACR Special Conference on the Microbiome, Viruses, and Cancer; 2020 Feb 21-24; Orlando, FL. Philadelphia (PA): AACR; Cancer Res 2020;80(8 Suppl):Abstract nr A35. April 2020 DOI: 10.1158/1538-7445.MVC2020-A35 https://cancerres.aacrjournals.org/content/80/8_Supplement/A35 
BOOK CHAPTERS / TECHNICAL REPORTS
Godoy-Vitorino, F. and Toledo-Hernandez, C. (2018) Reef building corals as a tool for climate change research in the genomics era. In M. Kloc, J. Z. Kubiak (eds.), Marine Organisms as Model Systems in Biology and Medicine, Results and Problems in Cell Differentiation 65,Chapter 23 , ISBIN 978-3-319-92485-4, https://doi.org/10.1007/978-3-319-92486-1_23
National Library of Medicine (U.S.). Board of Regents, A platform for biomedical discovery and data-powered health : National Library of Medicine strategic plan 2017-2027 [Bethesda, Md.] : U.S. Dept.of Health and Human Services, Public Health Service, National Institutes of Health, National Library of Medicine, (2018) pp39, NLM ID: 101721534 [Book] Co-Author. My working group aimed to build a report (10-year plan) with recommended strategies for NLM to facilitate and accelerate discovery inbiomedical discovery and translational science.
Dominguez-Bello M., Godoy-Vitorino F. (2013) Infant Microbiome. In: Nelson K. (eds) Encyclopedia of Metagenomics. Springer, New York, NY Chapter: 304271, pp.280- 285, DOI: 1007/978-1-4899-7475-4_405
SELECTED HONORS/AWARDS
Awardee Advanced Research Grant, Puerto Rico Science, Technology and Research Trust 2019
Editorial Board Member: Gynecology and Pelvic Medicine (ISSN 2617-4499; Gynecol Pelvic Med; GPM; gpm.amegroups.com) http://gpm.amegroups.com/user/view/82041
Chair, Human Microbiome Session, 1st ISME Latin America Meeting, Valparaiso, Chile, September 11-14 2019, https://isme-la2019.org
Member of the Graduate Committee of the UPR School of Medicine, Microbiology and Medical Zoology Graduate Program 2019- present
Member of the UPR-Medical Sciences Campus, Institutional Review Board (IRB) (2019-2021)
Participant Member "The Cancer Systems Microbiome Innovation Lab" April 29- May 3rd 2019, Beaver Hollow Conference Center located, Java Center, Buffalo,NY
Board of Directors American Association for the Advancement of Science (AAAS) Caribbean Division – Nov2018-present
The microbiota Vault – A global microbiota vault to conserve long-term health for humanity – http://www.microbiotavault.org/ – team member – coordinate support from global institutions
Productivity Award – 1st place, Puerto Rico Idea Network for Biomedical Research Excellence – research projects Publication Awards – August 2018
Dec 1st 2018 Puerto Rico Society for Microbiology (SMPR), Americo Pomales Award, 1st place Undergraduate Poster Presentation at the Sixth Student Research Symposium: Passing the torch of Ethics and Research to the next generation,  Brayan Vilanova "The probiotic microbiota of fermented tropical beverages: Mauby and Tepache" 
Dec 1st 2018 Puerto Rico Society for Microbiology (SMPR), Americo Pomales Award, 2nd place graduate Poster Presentation at the Sixth Student Research Symposium: Passing the torch of Ethics and Research to the next generation,  Frances Vazquez "Anogenital bacteria associated to HPV infections in Puerto Rican women"
Organizing Committee ISME Latin America, August 2019 , Chile
ISME – International Board of Embassadors– International Society for Microbial Ecology (2018- present)
Member of NIH's National Library of Medicine's (NLM) Literature Selection Technical Review Committeefor selection of journals for PubMed indexation (2015-2019)
2018 American Association for Cancer Research (AACR) Minority Faculty Scholar in Cancer Research Award (AACR-MICR Faculty Scholar Award)
Visiting Faculty Award, IDeA Network for Biomedical Research Excellence (PRINBRE), 02/2018 Proj title: Microbial Pathway Reconstructions in cervical samples associated to HPV
Host: Dr. Rob Knight's Dept. Pediatrics Center for Microbiome Innovation, University of California-San Diego, La Jolla, CA
ASM/NSF LINK-UFRI Award Undergraduate Faculty Research Initiative (UFRI) Fellowship – supported by the American Society for Microbiology (ASM) and the National Science Foundation (NSF) under the Leaders Inspiring Networks and Knowledge (LINK) program. Recognition at the National level, as a model of excellence in STEM research and for commitment to student learning.
American Society for Microbiology Minority Awardto Filipa Godoy-Vitorino, June 2015, New Orleans, Louisiana
Carl Storm Fellowship– Invited Speaker at the Gordon Research Conference in Applied and Environmental Microbiology, Mount Holyoke, MA – Summer 2013
Millis-Colwell Exchange Program Award for Early Career Scientists, American Society for Microbiology. This Award is given to only 1 US researcher each year. Award to participate in the Australian Society for Microbiology Annual Meeting and visit the Australian Centre for Ecogenomics at the University of Queensland.
American Society for Microbiology –Young Investigator Oral Presentation, Session on Ecology and Evolution of Unicellular Eukaryotes, San Francisco, CA – may 2012
NSF National Science Foundation/DBI- Postdoctoral Research Fellowship – 2009-2012
NSF National Science Foundation/DEB – Doctoral Dissertation Improvement Grant – 2007-2009
SELECTED PEER REVIEWED PUBLICATIONS 2018-2020

Abarca JG, Zuniga I, Ortiz-Morales G, Lugo A, Viquez-Cervilla M, Rodriguez-Hernandez N, Vázquez-Sánchez F, Murillo-Cruz C, Torres-Rivera EA, Pinto-Tomás AA and Godoy-Vitorino F (2018) Characterization of the Skin Microbiota of the Cane Toad Rhinella cf. marina in Puerto Rico and Costa Rica. Front. Microbiol. 8:2624. doi: 10.3389/fmicb.2017.02624 PMID: 29354109 PMCID: PMC5760547
Ortiz,G., Chorna,N., Romaguera ,J.,Martinez-Ferrer,M., Sanchez,M.,Ortiz,A.P., White,J.R., Guerrero-Preston,R. and Godoy-Vitorino, F., Cervical microbiota and the urinary metabolome in patients with high-risk and low-risk HPV infections, Cancer Research 78 (13 Supplement), 3267-3267 ([abstract]. In: of the 109th Annual Meeting of the American Association for Cancer Research; 2018 Apr 14-18; Chicago, Illinois. Philadelphia (PA): AACR; 2018.Abstract nr 3267)
Guerrero-Preston,R., Navarro,K., Godoy-Vitorino,F, White, J., Jedlicka,A., Rivera-Alvarez,G.,Mora-Lagos,B., Timp, W., Westra, W., Koch, W.,Marchionni, L., Kim, Y.,Sidransky, D., High-resolution microbiome profiling of 16SrRNA sequencing data, Microbiome Arrays and Expression Arrays identify differential bacterial communities in head and neck cancer patients treated with surgery, chemo-radiation and PD-1 checkpoint blockade therapy, Biomarkers predictive of therapeutic benefit , Cancer Research 78 (13 Supplement), 570-570 (In: of the 109th Annual Meeting of the American Association for Cancer Research; 2018 Apr 14-18; Chicago, Illinois. Philadelphia (PA): AACR; 2018.Abstract nr 570)
Ortiz-Maldonado, Y., Godoy-Vitorino, F. and Restrepo,C., Landsliding and rhizobiota link the short- and long-term carbon cycles,  Geophysical Research Abstracts Vol. 20, EGU2018-17124, 2018 EGU General Assembly 2018
Vargas-Robles, D., Magris, M., Morales, N., de Koning, M.N., Rodriguez, I., Nieves, T., Godoy-Vitorino,F., Sanchez, G., Alcaraz, L.D., Forney, L., Pérez,M.E., García-Briceño, L., van Doorn,L.J., Dominguez-Bello,M.G., High infection by only oncogenic Human Papillomavirus in Amerindians, mSphere,3:e00176-18. https://doi.org/10.1128/mSphere.00176-18. PMID: 29720524, PMCID:PMC5932372
Godoy-Vitorino, F. and Toledo-Hernandez, C. (2018) Reef building corals as a tool for climate change research in the genomics era. In M. Kloc, J. Z. Kubiak (eds.), Marine Organisms as Model Systems in Biology and Medicine, Results and Problems in Cell Differentiation 65,Chapter 23 , ISBIN 978-3-319-92485-4, https://doi.org/10.1007/978-3-319-92486-1_23, PMID:30083934
van Schooten, B., Godoy-Vitorino, F., McMillan, W. O. and Papa, R. (2018), Conserved microbiota among young Heliconius butterfly species, Oct 2;6:e5502. doi: 10.7717/peerj.5502. eCollection 2018. PMID:30310733
Godoy-Vitorino, F., Romaguera, J.E., Zhao, C., Vargas-Robles, D., Ortiz-Morales, G., Vázquez-Sánchez, F., Sanchez-Vázquez M, de la Garza-Casillas M, Martinez-Ferrer M, White JR, Bittinger K, Dominguez-Bello MG and Blaser MJ (2018). Cervicovaginal fungi and bacteria associated with cervical intraepithelial neoplasia and high-risk Human Papillomavirus infections in a Hispanic population. Front Microbiol. 2018 Oct 23;9:2533. doi: 10.3389/fmicb.2018.02533. eCollection 2018. PubMed PMID: 30405584; PubMed Central PMCID: PMC6208322.
Godoy-Vitorino F, Ortiz-Morales G, Romaguera J, Sanchez MM, Martinez-Ferrer M, Chorna N (2018) Discriminating high-risk cervical Human Papilloma Virus infections with urinary biomarkers via non-targeted GC-MS-based metabolomics. PLoS ONE 13(12): e0209936. doi: 10.1371/journal.pone.0209936,  eCollection 2018. PMID:30592768
Dominguez-Bello MG, Godoy-Vitorino F, Knight R, Blaser MJ. Role of the microbiome in human development. Gut. 2019 Jan 22;0:1–7;  pii: gutjnl-2018-317503. doi: 10.1136/gutjnl-2018-317503, PMID: 30670574
Soares-Castro P, Araújo-Rodrigues H, Godoy-Vitorino F, Ferreira M, Covelo P, López A, Vingada J, Eira C, Santos PM. Microbiota fingerprints within the oral cavity of cetaceans as indicators for population biomonitoring. Sci Rep. 2019 Sep 23;9(1):13679. doi: 10.1038/s41598-019-50139-7. PMID: 31548611
Chorna, N., Romaguera,J and Godoy-Vitorino, F*. Cervicovaginal Microbiome and Urine Metabolome Paired Analysis Reveals Niche Partitioning of the Microbiota in Patients with Human Papilloma Virus Infections, Metabolites 2020, 10(1), 36; https://doi.org/10.3390/metabo10010036 .*senior corresponding author.

Felix Rivera-Mariani, Summer Pellechio, Hayat Srour, Ruslan Fomenko, Benjamin Bolanos, Filipa Godoy-Vitorino, Kerry Kinney, Juan Maestre, Humberto Cavallin,

 Dose-Response of the Pro-Inflammatory Potential Induced by Indoor Settled Dust from Homes with Different Levels of Water-Damage during Hurricane Maria in San Juan, Puerto Rico, 

J ALLERGY CLIN IMMUNOL

 

Volume 145, Issue 2, Supplement, Page AB127, DOI: 

https://doi.org/10.1016/j.jaci.2019.12.50

Hayat Srour, Summer Pellechio,Ruslan Fomenko, Benjamin Bolanos, Filipa Godoy-Vitorino, Juan Maestre, Kerry Kinney, Humberto Cavallin

Associations between Upper Respiratory Symptom Scores of Puerto Rican Residents, Pro-Inflammatory Potential of Indoor Settled Dust, and Level of Water Damage to Homes during Hurricane Maria, 

February 2020 Volume 145, Issue 2, Supplement, Page AB130, DOI: 

https://doi.org/10.1016/j.jaci.2019.12.51

Hayat Srour, Summer Pellechio,Ruslan Fomenko, Benjamin Bolanos, Filipa Godoy-Vitorino, Juan Maestre, Kerry Kinney, Humberto Cavallin

IL-1b, IL-6, and IL-8-inducing Potential of Indoor Settled Dust from Homes One and Two-Years Post-Hurricane Maria in San Juan, Puerto Rico,

 J ALLERGY CLIN IMMUNOL

 

Volume 145, Issue 2, Supplement, Page AB127, DOI: 

https://doi.org/10.1016/j.jaci.2019.12.509

Xavier JB, Young VB, Skufca J, Ginty F, Testerman T, Pearson AT, Macklin P, Mitchell A, Shmulevich I, Xie L, Caporaso JG, Crandall KA, Simone NL, Godoy-Vitorino F, Griffin TJ, Whiteson KL, Gustafson HH, Slade DJ, Schmidt TM, Walther-Antonio MRS, Korem T, Webb-Robertson BM, Styczynski MP, Johnson WE, Jobin C, Ridlon JM, Koh AY, Yu M, Kelly L, Wargo JA.

The Cancer Microbiome: Distinguishing Direct and Indirect Effects Requires a Systemic View.

 Trends Cancer. 2020 Mar;6(3):192-204. doi: 10.1016/j.trecan.2020.01.004. Epub 2020 Feb 7. Review. PMID: 32101723

Derilus D, Godoy-Vitorino F, Rosado H, Agosto E, Dominguez-Bello MG, Cavallin H (2020) 

An in-depth survey of the microbial landscape of the walls of a neonatal operating room

. 

PLoS ONE 15(4): e0230957. 

https://doi.org/10.1371/journal.pone.0230957

, PMID: 32243474

Ortiz Y, Restrepo C, Vilanova-Cuevas B, Santiago-Valentin E, Tringe SG, Godoy-Vitorino F(2020) 

Geology and climate influence rhizobiome composition of the phenotypically diverse tropical tree Tabebuia heterophylla

. PLoS One. 2020 Apr 7;15(4):e0231083. 

https://doi.org/10.1371/journal.pone.0231083

; eCollection 2020; PMID: 32255799

Rodríguez-Barreras R, Godoy-Vitorino F. DNA metabarcoding unveils niche overlapping and competition among Caribbean sea urchins. Regional Studies in Marine Science. 2020 November; 40(101537). doi: https://doi.org/10.1016/j.rsma.2020.101537.https://www.sciencedirect.com/science/article/abs/pii/S2352485520306654?via%3Dihub
Rosado PM, Godoy-Vitorino F, Vivaldi JA, Ortiz AP, Ramos-Cartagena J, Pérez CM. Lifestyle risk factors for oral and oropharyngeal cancers in patients attending sexually transmitted infection clinics in Puerto Rico. Cancer Epidemiology, Biomarkers & Prevention. Twelfth AACR Conference on the Science of Cancer Health Disparities in Racial/Ethnic Minorities and the Medically Underserved; 2020 May; San Francisco, CA, USA. AACR; c2020. https://cebp.aacrjournals.org/content/29/6_Supplement_2/C025 DOI: 10.1158/1538-7755.DISP19-C025
Vargas-Robles, D., Morales,N., Rodríguez, I., Nieves,T., Godoy-Vitorino, F., Alcaraz, L.D., Pérez, M.E., Ravel,J., Forney, L.J., Domínguez-Bello, M.G., (2020) Vaginal microbiota changes across a gradient of urbanization, Scientific Reports  2020 Jul 27;10(1):12487. doi: 10.1038/s41598-020-69111-x. PMID: 32719372, PMCID: PMC7385657
Godoy-Vitorino F. Understanding the role of microbiomes in the development of HPV-cervical cancer. Gynecol Pelvic Med 2020;3:7; doi: 10.21037/gpm-2020-hpv-02 http://gpm.amegroups.com/article/view/5951/html 
Josefina Romaguera, Filipa Godoy-Vitorino,  Cervical dysplasia is associated with increased levels of hydrogenotrophic methanogens, 2020 ASCCP Oral Presentations, Journal of Lower Genital Tract Disease April 2020 – Volume 24 – Issue 1S – p S1-S8 doi: 10.1097/LGT.0000000000000537
Filipa Godoy-Vitorino, Cynthia Perez, Kimil Acosta, Brayan Vilanova, Jeslie Ramos-Cartagena, Jose Vivaldi, Ana P. Ortiz. Oral microbiota associated to periodontal disease as a risk factor for oropharyngeal cancer, in patients from sexually transmitted infection clinics in Puerto Rico [abstract]. In: Proceedings of the AACR Special Conference on the Microbiome, Viruses, and Cancer; 2020 Feb 21-24; Orlando, FL. Philadelphia (PA): AACR; Cancer Res 2020;80(8 Suppl):Abstract nr A36.April 2020 DOI: 10.1158/1538-7445.MVC2020-A36 https://cancerres.aacrjournals.org/content/80/8_Supplement/A36.short?rss=1
Filipa Godoy-Vitorino, Josefina Romaguera. Methanobrevibacter is associated with cervical dysplasia in Hispanics with HPV infections [abstract]. In: Proceedings of the AACR Special Conference on the Microbiome, Viruses, and Cancer; 2020 Feb 21-24; Orlando, FL. Philadelphia (PA): AACR; Cancer Res 2020;80(8 Suppl):Abstract nr A35. April 2020 DOI: 10.1158/1538-7445.MVC2020-A35 https://cancerres.aacrjournals.org/content/80/8_Supplement/A35 

BOOK CHAPTERS / TECHNICAL REPORTS

Godoy-Vitorino, F. and Toledo-Hernandez, C. (2018) Reef building corals as a tool for climate change research in the genomics era. In M. Kloc, J. Z. Kubiak (eds.), Marine Organisms as Model Systems in Biology and Medicine, Results and Problems in Cell Differentiation 65,Chapter 23 , ISBIN 978-3-319-92485-4, https://doi.org/10.1007/978-3-319-92486-1_23
National Library of Medicine (U.S.). Board of Regents, A platform for biomedical discovery and data-powered health : National Library of Medicine strategic plan 2017-2027 [Bethesda, Md.] : U.S. Dept.of Health and Human Services, Public Health Service, National Institutes of Health, National Library of Medicine, (2018) pp39, NLM ID: 101721534 [Book] Co-Author. My working group aimed to build a report (10-year plan) with recommended strategies for NLM to facilitate and accelerate discovery inbiomedical discovery and translational science.
Dominguez-Bello M., Godoy-Vitorino F. (2013) Infant Microbiome. In: Nelson K. (eds) Encyclopedia of Metagenomics. Springer, New York, NY Chapter: 304271, pp.280- 285, DOI: 1007/978-1-4899-7475-4_405

SELECTED HONORS/AWARDS

Awardee Advanced Research Grant, Puerto Rico Science, Technology and Research Trust 2019
Editorial Board Member: Gynecology and Pelvic Medicine (ISSN 2617-4499; Gynecol Pelvic Med; GPM; gpm.amegroups.com) http://gpm.amegroups.com/user/view/82041
Chair, Human Microbiome Session, 1st ISME Latin America Meeting, Valparaiso, Chile, September 11-14 2019, https://isme-la2019.org
Member of the Graduate Committee of the UPR School of Medicine, Microbiology and Medical Zoology Graduate Program 2019- present
Member of the UPR-Medical Sciences Campus, Institutional Review Board (IRB) (2019-2021)
Participant Member "The Cancer Systems Microbiome Innovation Lab" April 29- May 3rd 2019, Beaver Hollow Conference Center located, Java Center, Buffalo,NY
Board of Directors American Association for the Advancement of Science (AAAS) Caribbean Division – Nov2018-present
The microbiota Vault – A global microbiota vault to conserve long-term health for humanity – http://www.microbiotavault.org/ – team member – coordinate support from global institutions
Productivity Award – 1st place, Puerto Rico Idea Network for Biomedical Research Excellence – research projects Publication Awards – August 2018
Dec 1st 2018 Puerto Rico Society for Microbiology (SMPR), Americo Pomales Award, 1st place Undergraduate Poster Presentation at the Sixth Student Research Symposium: Passing the torch of Ethics and Research to the next generation,  Brayan Vilanova "The probiotic microbiota of fermented tropical beverages: Mauby and Tepache" 
Dec 1st 2018 Puerto Rico Society for Microbiology (SMPR), Americo Pomales Award, 2nd place graduate Poster Presentation at the Sixth Student Research Symposium: Passing the torch of Ethics and Research to the next generation,  Frances Vazquez "Anogenital bacteria associated to HPV infections in Puerto Rican women"
Organizing Committee ISME Latin America, August 2019 , Chile
ISME – International Board of Embassadors– International Society for Microbial Ecology (2018- present)
Member of NIH's National Library of Medicine's (NLM) Literature Selection Technical Review Committeefor selection of journals for PubMed indexation (2015-2019)
2018 American Association for Cancer Research (AACR) Minority Faculty Scholar in Cancer Research Award (AACR-MICR Faculty Scholar Award)
Visiting Faculty Award, IDeA Network for Biomedical Research Excellence (PRINBRE), 02/2018 Proj title: Microbial Pathway Reconstructions in cervical samples associated to HPV
Host: Dr. Rob Knight's Dept. Pediatrics Center for Microbiome Innovation, University of California-San Diego, La Jolla, CA
ASM/NSF LINK-UFRI Award Undergraduate Faculty Research Initiative (UFRI) Fellowship – supported by the American Society for Microbiology (ASM) and the National Science Foundation (NSF) under the Leaders Inspiring Networks and Knowledge (LINK) program. Recognition at the National level, as a model of excellence in STEM research and for commitment to student learning.
American Society for Microbiology Minority Awardto Filipa Godoy-Vitorino, June 2015, New Orleans, Louisiana
Carl Storm Fellowship– Invited Speaker at the Gordon Research Conference in Applied and Environmental Microbiology, Mount Holyoke, MA – Summer 2013
Millis-Colwell Exchange Program Award for Early Career Scientists, American Society for Microbiology. This Award is given to only 1 US researcher each year. Award to participate in the Australian Society for Microbiology Annual Meeting and visit the Australian Centre for Ecogenomics at the University of Queensland.
American Society for Microbiology –Young Investigator Oral Presentation, Session on Ecology and Evolution of Unicellular Eukaryotes, San Francisco, CA – may 2012
NSF National Science Foundation/DBI- Postdoctoral Research Fellowship – 2009-2012
NSF National Science Foundation/DEB – Doctoral Dissertation Improvement Grant – 2007-2009
CONTACT
Microbiome Lab
Dept. Microbiology and Medical Zoology
Univ Puerto Rico School of Medicine
Medical Sciences Campus
Tel:+1-787-758-2525 exts 2096/7069/1361