Dr. Filipa Godoy Vitorino
Associate Professor
B.S Biology (Licentiate's degree before EU's Bologna reforms), Faculdade de Ciências da Universidade do Porto, Portugal, 2002

EU Socrates Erasmus Programme Fellow, Center for Marine Biotechnology, Applied Algology group, University of Las Palmas (ULPGC), Canary Islands, Spain, 2002.

Ph.D. Biology (Microbial Ecology), University of Puerto Rico Rio Piedras, Puerto Rico, 2009

Postdoctoral Fellow in Metagenomics, National Science Foundation. US DOE – Joint Genome Institute, Walnut Creek, California, 2009-2012
MISSION AND FIELD OF INTEREST
GODOY Lab's Mission
The UPR Microbiome Lab's mission, is to translate microbial ecology to improve human health, and empower education in the microbial sciences, by studying microbiomes -including dynamics and functions of microbial communities. We aim at understanding the coevolution of microbes with their hosts, the symbiotic mechanisms underlying microbial community establishment, resilience, and persistence, as well as the processes of dysbiosis leading to disease phenotypes. By integrating multiple Omics approaches and scientific fields, we intend to reveal multi-kingdom biodiversity underlying microbiome-driven malignancies. We work at the interface of ecology, physiology, and bioinformatics to address broad questions on host-microbiome interactions. Our lab's commitment is also to educate about the microbiome, and propose ways to conserve microbes for the benefit of future generations. Our lab favors close mentoring, scholarship and teamwork, while offering appropriate opportunities for independent work and recognition.
We pioneered the use of metagenomics and bioinformatic tools to study the human microbiome as well as unique tropical host-microbe interactions in the Caribbean.
Our laboratory investigates microbiomes in a variety of contexts using various Omic techniques to understand the co-evolution, transmission, and functions of microbial-host symbioses. Filipa's group mission is to translate microbial ecology to improve human health and ecosystem conservation while empowering education in the microbial sciences.
Field of Interest: Microbiome, Microbial Community Ecology, Metagenomics, women's health, chronic diseases, cancer; conservation of biodiversity
Our lab has made significant contributions to the field of animal microbiomes, studying the hoatzin – a South American folivorous bird – as well as other animals.
Current areas of research include:
Studying vaginal microbiome dynamics for cervical cancer prevention (2U54MD007600-36 (8538)); 2) Understand the association between gut microbial communities and oncolytic viral therapy efficacy against solid tumors (U54 CA096297-17); Oral microbiome and its associations with HPV infections, periodontitis and COVID syndromes; Gut and oral microbiome and Alzheimer's disease; microbiome of native bees of Puerto Rico; The microbiome of leatherback turtles in the Caribbean; Microbiome in soil and crustaceans of mangroves; Microbiomes associated to sea urchins across the island of Puerto Rico; Mining for lignocellulose carbohydrate-active enzymes in Puerto  Rican soils
Active collaborations: 1) Identification the role of oral microbiota in antitumor immune responses and tumor development during PD-1 blockade treatment in oropharyngeal carcinoma (PR); 2) effects of heat stress on the microbiome of the reproductive tract of Wild type and Slick cows (PR); 3) microbial communities of the plastivore larvae Galleria mellonella consuming different types of plastics (Argentina); 4) Gut microbiomes of wild birds (Venezuela); 5) Gut microbiomes of cetaceans (Portugal); 6)Algae-associated microbiomes (PR); 7)Gut microbiomes and mental illness (PR); 8)Gut microbiome in a sample of Hispanic patients with Polycystic Ovary Syndrome (PR)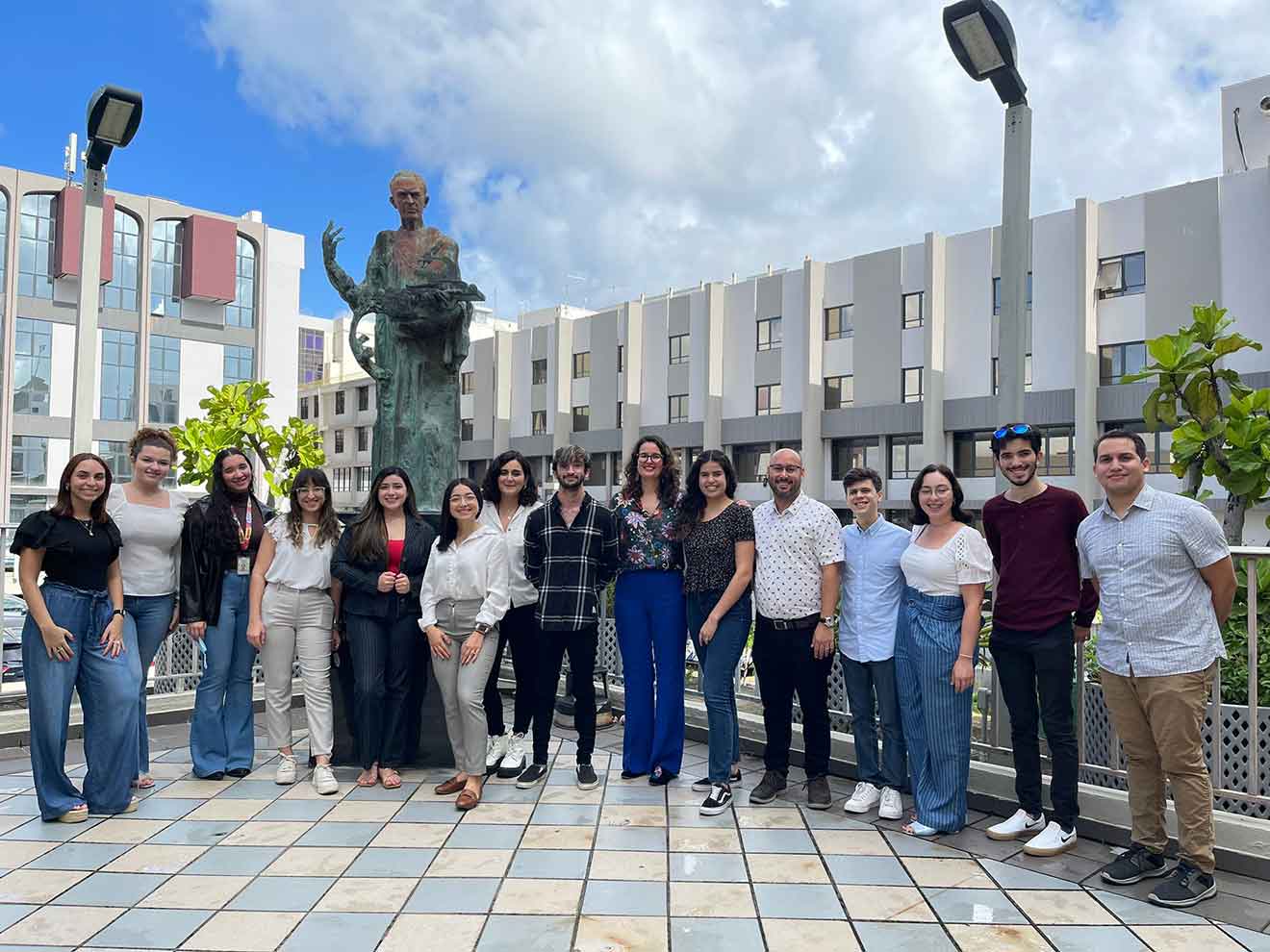 List of Publications (after 2018):
https://www.ncbi.nlm.nih.gov/myncbi/1HkRwEN9HRXko/bibliography/public/ 
Vargas-Robles,, Magris, M., Morales, N., de Koning, M.N., Rodriguez, I., Nieves, T., Godoy–Vitorino,F., Sanchez, G., Alcaraz, L.D., Forney, L., Pérez,M.E., García-Briceño, L., van Doorn,L.J., Dominguez-Bello,M.G., High rate of infection by only oncogenic Human Papillomavirus in Amerindians, mSphere,3:e00176-18. https://doi.org/10.1128/mSphere.00176-18. PMID: 29720524, PMCID:PMC5932372
van Schooten,, Godoy–Vitorino, F., McMillan, W. O. and Papa, R. (2018), Conserved microbiota among young Heliconius butterfly species, Oct 2;6:e5502. doi: 10.7717/peerj.5502. eCollection 2018. PMID:30310733
Godoy–Vitorino, F*., Romaguera, J.E., Zhao, C., Vargas-Robles,, Ortiz-Morales, G., Vázquez-Sánchez, F., Sanchez-Vázquez M, de la Garza-Casillas M, Martinez-Ferrer M, White JR, Bittinger K, Dominguez-Bello MG and Blaser MJ (2018). Cervicovaginal fungi and bacteria associated with cervical intraepithelial neoplasia and high-risk Human Papillomavirus infections in a Hispanic population. Front Microbiol. 2018 Oct 23;9:2533. doi: 10.3389/fmicb.2018.02533. eCollection 2018. PubMed PMID: 30405584; PubMed Central PMCID: PMC6208322 (*Senior Corresponding author)
Godoy–Vitorino F, Toledo-Hernandez C. Reef-Building Corals as a Tool for Climate Change Research in the Genomics Era. Results Probl Cell Differ. 2018;65:529-546. doi: 10.1007/978-3-319-92486-1_23.PMID: 30083934 Review.
Godoy–Vitorino F*, Ortiz-Morales G, Romaguera J, Sanchez MM, Martinez-Ferrer M, Chorna N (2018) Discriminating high-risk cervical Human Papilloma Virus infections with urinary biomarkers via non-targeted GC-MS-based metabolomics. PLoS ONE 13(12): e0209936. doi: 10.1371/journal.pone.0209936, eCollection 2018. PMID:30592768 PMCID: PMC6310238 (*Senior Corresponding author)
Dominguez-Bello MG, Godoy–Vitorino F, Knight R, Blaser MJ. Role of the microbiome in human development. Gut. 2019 Jan 22;0:1–7; pii: gutjnl-2018-317503. doi: 10.1136/gutjnl-2018-317503, PMID: 30670574
Godoy–Vitorino Human microbial ecology and the rising new medicine. Ann Transl Med. 2019 Jul;7(14):342. doi: 10.21037/atm.2019.06.56. Review. doi: http://dx.doi.org/10.21037/atm.2019.06.56. http://atm.amegroups.com/article/view/27011, PMID: 31475212, PMC6694241
Soares-Castro P, Araújo-Rodrigues H, Godoy–Vitorino F, Ferreira M, Covelo P, López A, Vingada J, Eira C, Santos PM. Microbiota fingerprints within the oral cavity of cetaceans as indicators for population biomonitoring. Sci Rep. 2019 Sep 23;9(1):13679. doi: 10.1038/s41598-019-50139-7. PMID: 31548611
Chorna, N., Romaguera,J and Godoy–Vitorino, F*. Cervicovaginal Microbiome and Urine Metabolome Paired Analysis Reveals Niche Partitioning of the Microbiota in Patients with Human Papilloma Virus Infections, Metabolites 2020, 10(1), 36; doi: 10.3390/metabo10010036 PMID: 31952112 *senior corresponding author
Xavier JB, Young VB, Skufca J, Ginty F, Testerman T, Pearson AT, Macklin P, Mitchell A, Shmulevich I, Xie L, Caporaso JG, Crandall KA, Simone NL, Godoy–Vitorino F, Griffin TJ, Whiteson KL, Gustafson HH, Slade DJ, Schmidt TM, Walther-Antonio MRS, Korem T, Webb-Robertson BM, Styczynski MP, Johnson WE, Jobin C, Ridlon JM, Koh AY, Yu M, Kelly L, Wargo JA. The Cancer Microbiome: Distinguishing Direct and Indirect Effects Requires a Systemic View. Trends Cancer. 2020 Mar;6(3):192-204. doi: 10.1016/j.trecan.2020.01.004. Epub 2020 Feb 7. Review. PMID: 32101723
Derilus D, Godoy–Vitorino F, Rosado H, Agosto E, Dominguez-Bello MG, Cavallin H (2020) An in-depth survey of the microbial landscape of the walls of a neonatal operating room. PLoS ONE 15(4): e0230957. https://doi.org/10.1371/journal.pone.0230957, PMID: 32243474
Rodríguez-Barreras R, Godoy–Vitorino Praebel, K., Wangensteen, O.S. DNA metabarcoding unveils niche overlapping and competition among Caribbean sea urchins. Regional Studies in Marine Science. 2020 November; 40(101537). doi: https://doi.org/10.1016/j.rsma.2020.101537 https://www.sciencedirect.com/science/article/abs/pii/S2352485520306654?via%3Dihub – !
Louime, Clifford J.; Vazquez-Sanchez, Frances; Derilus, Dieunel; Godoy–Vitorino, Filipa. "Divergent Microbiota Dynamics along the Coastal Marine Ecosystem of Puerto Rico" Microbiol. Res. 2020, 11(2), 45-55; https://doi.org/10.3390/microbiolres11020009; https://www.mdpi.com/2036-7481/11/2/9#
Ortiz Y, Restrepo C, Vilanova-Cuevas B, Santiago-Valentin E, Tringe SG, Godoy–Vitorino F (2020) Geology and climate influence rhizobiome composition of the phenotypically diverse tropical tree Tabebuia heterophylla. PLoS One. 2020 Apr 7;15(4):e0231083. https://doi.org/10.1371/journal.pone.0231083; eCollection 2020; PMID: 32255799;
Natalyia Chorna and Filipa Godoy–Vitorino, A Protocol for the Multi-Omic Integration of Cervical Microbiota and Urine Metabolomics to Understand Human Papillomavirus (HPV)-Driven Dysbiosis, Biomedicines 2020, 8(4), 81; https://doi.org/10.3390/biomedicines8040081; https://www.mdpi.com/2227-9059/8/4/81 PMID:32276347
Vargas-Robles, D., Morales,N., Rodríguez, I., Nieves,T., Godoy–Vitorino, F., Alcaraz, L.D., Pérez, M.E., Ravel,J., Forney, L.J., Domínguez-Bello, M.G., (2020) Vaginal microbiota changes across a gradient of urbanization, Scientific Reports 2020 Jul 27;10(1):12487. doi: 10.1038/s41598-020-69111-x. PMID: 32719372, PMCID: PMC7385657
Lacourt-Ventura MY, Vilanova-Cuevas B, Rivera-Rodríguez D, Rosario-Acevedo R, Miranda C, Maldonado-Martínez G, Maysonet J, Vargas D, Ruiz Y, Hunter-Mellado R, Cubano LA, Dharmawardhane S, Lampe JW, Baerga-Ortiz A, Godoy–Vitorino F, Martínez-Montemayor MM. Soy and Frequent Dairy Consumption with Subsequent Equol Production Reveals Decreased Gut Health in a Cohort of Healthy Puerto Rican Women. Int J Environ Res Public Health. 2021 Aug 4;18(16):8254. doi: 10.3390/ijerph18168254. PMID: 34444002; PMCID: PMC8391519.
Rodríguez-Barreras R, Tosado-Rodríguez E.L., Godoy–Vitorino 2021. Trophic niches reflect compositional differences in microbiota among Caribbean sea urchins. PeerJ 9:e12084 https://doi.org/10.7717/peerj.12084 PMID: 34540373; PMCID: PMC8415288
Foxx AJ, Franco Meléndez KP, Hariharan J, Kozik AJ, Wattenburger CJ, Godoy–Vitorino F, Rivers AR. Advancing Equity and Inclusion in Microbiome Research and Training. mSystems. 2021 Oct 12:e0115121. doi: 10.1128/mSystems.01151-21. PMID: 34636663
Vélez-Torres LN, Bolaños-Rosero B, Godoy–Vitorino F, Rivera-Mariani FE, Maestre JP, Kinney K, Cavallin H. 2022. Hurricane María drives increased indoor proliferation of filamentous fungi in San Juan, Puerto Rico: a two-year culture-based approach. PeerJ 10:e12730 https://doi.org/10.7717/peerj.12730 PMID 35261816
Vera-Urbina, F.; Dos Santos-Torres, M.F.; Godoy–Vitorino, F.; Torres-Hernández, B.A. The Gut Microbiome May Help Address Mental Health Disparities in Hispanics: A Narrative Review. Microorganisms 2022, 10, 763. https://www.mdpi.com/2076-2607/10/4/763
Lee, S., Zhang, A., Acevedo Flores,M.,Ángel Solá, D., Cao, L., Bolanos-Rosero, B. Wang, L., Godoy–Vitorino, Rosario Matos, N., Wang, L. 2022 Prenatal exposure to Hurricane Maria is associated with an altered infant nasal microbiome, The Journal of Allergy and Clinical Immunology: Global June 02, 2022 https://doi.org/10.1016/j.jacig.2022.05.001
Castañeda-Avila MA, Oramas Sepúlveda CJ, Pérez CM, Ramos-Cartagena JM, Acosta Pagán K, Pérez-Santiago J, Godoy–Vitorino F, Ortiz AP. Sex and educational attainment differences in HPV knowledge and vaccination awareness among unvaccinated-sexually active adults in Puerto Rico. Hum Vaccin Immunother. 2022 Jun 13:2077065. doi: 10.1080/21645515.2022.2077065. Epub ahead of print. PMID: 35695750.
Ruiz Barrionuevo JM, Vilanova-Cuevas B, Alvarez A, Martín E, Malizia A, Galindo-Cardona A, de Cristóbal RE, Occhionero MA, Chalup A, Monmany-Garzia AC, Godoy–Vitorino The Bacterial and Fungal Gut Microbiota of the Greater Wax Moth, Galleria mellonella L. Consuming Polyethylene and Polystyrene. Front Microbiol. 2022 Jul 5;13:918861. doi: 10.3389/fmicb.2022.918861. PMID: 35865934; PMCID: PMC9294514.
Reynoso-García, Miranda-Santiago, Meléndez-Vázquez, Acosta-Pagán, Sánchez-Rosado, Díaz-Rivera, Rosado-Quiñones, Acevedo-Márquez, Cruz-Roldán, Tosado-Rodríguez, Figueroa-Gispert and Godoy–Vitorino, A complete guide to human microbiomes: body niches, transmission, development, dysbiosis and restoration, Front. Syst. Biol., 22 July 2022 Sec. Integrative Genetics and Genomics, 22 july 2022, https://doi.org/10.3389/fsysb.2022.951403 **All authors are grad students in human microbiome class
Nguyen TT, Shin DH, Sohoni S, Singh SK, Rivera-Molina Y, Jiang H, Fan X, Gumin J, Lang FF, Alvarez-Breckenridge C, Godoy-Vitorino F, Zhu L, Zheng WJ, Zhai L, Ladomersky E, Lauing KL, Alonso MM, Wainwright DA, Gomez-Manzano C, Fueyo J. Reshaping the tumor microenvironment with oncolytic viruses, positive regulation of the immune synapse, and blockade of the immunosuppressive oncometabolic circuitry. Journal for ImmunoTherapy of Cancer 2022;10:e004935. doi: 10.1136/jitc-2022-004935, PMID: 35902132
Dickerson, F., Dilmore, A.H., Godoy–Vitorino, F., Nguyen, T.T., Paulus, M., Pinto-Tomas, A.A., Moya-Roman, C., Zuniga-Chaves, I., Severance, E.G., Jeste, D.V., 2022. The Microbiome and Mental Health Across the Lifespan, in: Curr Topics Behav Neurosci. doi:10.1007/7854_2022_384, PMID: 35947353
Sahana Kuthyar, Karli Watson, Shi Huang, Lauren J.N. Brent, Michael Platt, Julie Horvath, Janis Gonzalez, Melween Martínez, Filipa Godoy–Vitorino, Rob Knight, Maria Gloria Dominguez-Bello*, Katherine R. Amato* Limited microbiome differences in captive and semi-wild primate populations consuming similar diets, FEMS Microbiology Ecology, fiac098, 01 September 2022 https://doi.org/10.1093/femsec/fiac098 PMID: 36047944
Ortiz Ana P., Acosta-Pagán Kimil T., Oramas-Sepúlveda Carla, Castañeda-Avila Maira A., Vilanova-Cuevas Brayan, Ramos-Cartagena Jeslie M., Vivaldi José A., Pérez-Santiago Josué, Pérez Cynthia M., Godoy-Vitorino Filipa; Oral microbiota and periodontitis severity among Hispanic adults, Frontiers in Cellular and Infection Microbiology 12,2022, https://www.frontiersin.org/articles/10.3389/fcimb.2022.965159 DOI=10.3389/fcimb.2022.965159, ISSN=2235-2988
SELECTED HONORS/AWARDS
2022
Honorary Fellow member
, Applied Microbiology International / Society for Applied Microbiology (UK) 
https://sfam.org.uk/
2021 Godoy's Microbiome Lab, Featured by the American Society for Microbiology (ASM): Microbiology Is … Your Microbiome, Your Health https://asm.org/Videos/Microbiology-Is-Your-Microbiome,-Your-Health
2020-present President, American Association for the advancement of Science (AAAS) Caribbean Division  https://www.aaascd.pr/
2020 Portrayed in Ciencia Puerto Rico, Seeds of Success "Women in STEM" collection https://www.cienciapr.org/es/seeds-success/filipa-godoy-vitorino
2020-present Mentor Graduate Women in Science, Puerto Rico Chapter
2019 Distinguished Faculty, UPR Medical Sciences, Associate Deanship for Biomedical Sciences and Graduate Programs, San Juan Puerto Rico, May 14 2019 (elected by majority graduate student votes)
2019 First place Award, Outstanding oral presentation by a Researcher, Puerto Rico Clinical Research Summit: Connecting the World, Sheraton Puerto Rico Hotel & Casino, San Juan Puerto Rico, May 10 2019
BOOK CHAPTERS / TECHNICAL REPORTS
Godoy-Vitorino, F. and Toledo-Hernandez, C. (2018) Reef building corals as a tool for climate change research in the genomics era. In M. Kloc, J. Z. Kubiak (eds.), Marine Organisms as Model Systems in Biology and Medicine, Results and Problems in Cell Differentiation 65,Chapter 23 , ISBIN 978-3-319-92485-4, https://doi.org/10.1007/978-3-319-92486-1_23
National Library of Medicine (U.S.). Board of Regents, A platform for biomedical discovery and data-powered health : National Library of Medicine strategic plan 2017-2027 [Bethesda, Md.] : U.S. Dept.of Health and Human Services, Public Health Service, National Institutes of Health, National Library of Medicine, (2018) pp39, NLM ID: 101721534 [Book] Co-Author. My working group aimed to build a report (10-year plan) with recommended strategies for NLM to facilitate and accelerate discovery inbiomedical discovery and translational science.
Dominguez-Bello M., Godoy-Vitorino F. (2013) Infant Microbiome. In: Nelson K. (eds) Encyclopedia of Metagenomics. Springer, New York, NY Chapter: 304271, pp.280- 285, DOI: 1007/978-1-4899-7475-4_405
SELECTED HONORS/AWARDS
Awardee Advanced Research Grant, Puerto Rico Science, Technology and Research Trust 2019
Editorial Board Member: Gynecology and Pelvic Medicine (ISSN 2617-4499; Gynecol Pelvic Med; GPM; gpm.amegroups.com) http://gpm.amegroups.com/user/view/82041
Chair, Human Microbiome Session, 1st ISME Latin America Meeting, Valparaiso, Chile, September 11-14 2019, https://isme-la2019.org
Member of the Graduate Committee of the UPR School of Medicine, Microbiology and Medical Zoology Graduate Program 2019- present
Member of the UPR-Medical Sciences Campus, Institutional Review Board (IRB) (2019-2021)
Participant Member "The Cancer Systems Microbiome Innovation Lab" April 29- May 3rd 2019, Beaver Hollow Conference Center located, Java Center, Buffalo,NY
Board of Directors American Association for the Advancement of Science (AAAS) Caribbean Division – Nov2018-present
The microbiota Vault – A global microbiota vault to conserve long-term health for humanity – http://www.microbiotavault.org/ – team member – coordinate support from global institutions
Productivity Award – 1st place, Puerto Rico Idea Network for Biomedical Research Excellence – research projects Publication Awards – August 2018
Dec 1st 2018 Puerto Rico Society for Microbiology (SMPR), Americo Pomales Award, 1st place Undergraduate Poster Presentation at the Sixth Student Research Symposium: Passing the torch of Ethics and Research to the next generation,  Brayan Vilanova "The probiotic microbiota of fermented tropical beverages: Mauby and Tepache" 
Dec 1st 2018 Puerto Rico Society for Microbiology (SMPR), Americo Pomales Award, 2nd place graduate Poster Presentation at the Sixth Student Research Symposium: Passing the torch of Ethics and Research to the next generation,  Frances Vazquez "Anogenital bacteria associated to HPV infections in Puerto Rican women"
Organizing Committee ISME Latin America, August 2019 , Chile
ISME – International Board of Embassadors– International Society for Microbial Ecology (2018- present)
Member of NIH's National Library of Medicine's (NLM) Literature Selection Technical Review Committeefor selection of journals for PubMed indexation (2015-2019)
2018 American Association for Cancer Research (AACR) Minority Faculty Scholar in Cancer Research Award (AACR-MICR Faculty Scholar Award)
Visiting Faculty Award, IDeA Network for Biomedical Research Excellence (PRINBRE), 02/2018 Proj title: Microbial Pathway Reconstructions in cervical samples associated to HPV
Host: Dr. Rob Knight's Dept. Pediatrics Center for Microbiome Innovation, University of California-San Diego, La Jolla, CA
ASM/NSF LINK-UFRI Award Undergraduate Faculty Research Initiative (UFRI) Fellowship – supported by the American Society for Microbiology (ASM) and the National Science Foundation (NSF) under the Leaders Inspiring Networks and Knowledge (LINK) program. Recognition at the National level, as a model of excellence in STEM research and for commitment to student learning.
American Society for Microbiology Minority Awardto Filipa Godoy-Vitorino, June 2015, New Orleans, Louisiana
Carl Storm Fellowship– Invited Speaker at the Gordon Research Conference in Applied and Environmental Microbiology, Mount Holyoke, MA – Summer 2013
Millis-Colwell Exchange Program Award for Early Career Scientists, American Society for Microbiology. This Award is given to only 1 US researcher each year. Award to participate in the Australian Society for Microbiology Annual Meeting and visit the Australian Centre for Ecogenomics at the University of Queensland.
American Society for Microbiology –Young Investigator Oral Presentation, Session on Ecology and Evolution of Unicellular Eukaryotes, San Francisco, CA – may 2012
NSF National Science Foundation/DBI- Postdoctoral Research Fellowship – 2009-2012
NSF National Science Foundation/DEB – Doctoral Dissertation Improvement Grant – 2007-2009
List of Publications (after 2018):

https://www.ncbi.nlm.nih.gov/myncbi/1HkRwEN9HRXko/bibliography/public/ 

Vargas-Robles,, Magris, M., Morales, N., de Koning, M.N., Rodriguez, I., Nieves, T., Godoy–Vitorino,F., Sanchez, G., Alcaraz, L.D., Forney, L., Pérez,M.E., García-Briceño, L., van Doorn,L.J., Dominguez-Bello,M.G., High rate of infection by only oncogenic Human Papillomavirus in Amerindians, mSphere,3:e00176-18. https://doi.org/10.1128/mSphere.00176-18. PMID: 29720524, PMCID:PMC5932372
van Schooten,, Godoy–Vitorino, F., McMillan, W. O. and Papa, R. (2018), Conserved microbiota among young Heliconius butterfly species, Oct 2;6:e5502. doi: 10.7717/peerj.5502. eCollection 2018. PMID:30310733
Godoy–Vitorino, F*., Romaguera, J.E., Zhao, C., Vargas-Robles,, Ortiz-Morales, G., Vázquez-Sánchez, F., Sanchez-Vázquez M, de la Garza-Casillas M, Martinez-Ferrer M, White JR, Bittinger K, Dominguez-Bello MG and Blaser MJ (2018). Cervicovaginal fungi and bacteria associated with cervical intraepithelial neoplasia and high-risk Human Papillomavirus infections in a Hispanic population. Front Microbiol. 2018 Oct 23;9:2533. doi: 10.3389/fmicb.2018.02533. eCollection 2018. PubMed PMID: 30405584; PubMed Central PMCID: PMC6208322 (*Senior Corresponding author)
Godoy–Vitorino F, Toledo-Hernandez C. Reef-Building Corals as a Tool for Climate Change Research in the Genomics Era. Results Probl Cell Differ. 2018;65:529-546. doi: 10.1007/978-3-319-92486-1_23.PMID: 30083934 Review.
Godoy–Vitorino F*, Ortiz-Morales G, Romaguera J, Sanchez MM, Martinez-Ferrer M, Chorna N (2018) Discriminating high-risk cervical Human Papilloma Virus infections with urinary biomarkers via non-targeted GC-MS-based metabolomics. PLoS ONE 13(12): e0209936. doi: 10.1371/journal.pone.0209936, eCollection 2018. PMID:30592768 PMCID: PMC6310238 (*Senior Corresponding author)
Dominguez-Bello MG, Godoy–Vitorino F, Knight R, Blaser MJ. Role of the microbiome in human development. Gut. 2019 Jan 22;0:1–7; pii: gutjnl-2018-317503. doi: 10.1136/gutjnl-2018-317503, PMID: 30670574
Godoy–Vitorino Human microbial ecology and the rising new medicine. Ann Transl Med. 2019 Jul;7(14):342. doi: 10.21037/atm.2019.06.56. Review. doi: http://dx.doi.org/10.21037/atm.2019.06.56. http://atm.amegroups.com/article/view/27011, PMID: 31475212, PMC6694241
Soares-Castro P, Araújo-Rodrigues H, Godoy–Vitorino F, Ferreira M, Covelo P, López A, Vingada J, Eira C, Santos PM. Microbiota fingerprints within the oral cavity of cetaceans as indicators for population biomonitoring. Sci Rep. 2019 Sep 23;9(1):13679. doi: 10.1038/s41598-019-50139-7. PMID: 31548611
Chorna, N., Romaguera,J and Godoy–Vitorino, F*. Cervicovaginal Microbiome and Urine Metabolome Paired Analysis Reveals Niche Partitioning of the Microbiota in Patients with Human Papilloma Virus Infections, Metabolites 2020, 10(1), 36; doi: 10.3390/metabo10010036 PMID: 31952112 *senior corresponding author
Xavier JB, Young VB, Skufca J, Ginty F, Testerman T, Pearson AT, Macklin P, Mitchell A, Shmulevich I, Xie L, Caporaso JG, Crandall KA, Simone NL, Godoy–Vitorino F, Griffin TJ, Whiteson KL, Gustafson HH, Slade DJ, Schmidt TM, Walther-Antonio MRS, Korem T, Webb-Robertson BM, Styczynski MP, Johnson WE, Jobin C, Ridlon JM, Koh AY, Yu M, Kelly L, Wargo JA. The Cancer Microbiome: Distinguishing Direct and Indirect Effects Requires a Systemic View. Trends Cancer. 2020 Mar;6(3):192-204. doi: 10.1016/j.trecan.2020.01.004. Epub 2020 Feb 7. Review. PMID: 32101723
Derilus D, Godoy–Vitorino F, Rosado H, Agosto E, Dominguez-Bello MG, Cavallin H (2020) An in-depth survey of the microbial landscape of the walls of a neonatal operating room. PLoS ONE 15(4): e0230957. https://doi.org/10.1371/journal.pone.0230957, PMID: 32243474
Rodríguez-Barreras R, Godoy–Vitorino Praebel, K., Wangensteen, O.S. DNA metabarcoding unveils niche overlapping and competition among Caribbean sea urchins. Regional Studies in Marine Science. 2020 November; 40(101537). doi: https://doi.org/10.1016/j.rsma.2020.101537 https://www.sciencedirect.com/science/article/abs/pii/S2352485520306654?via%3Dihub – !

Louime, Clifford J.; Vazquez-Sanchez, Frances; Derilus, Dieunel; Godoy–Vitorino, Filipa. "Divergent Microbiota Dynamics along the Coastal Marine Ecosystem of Puerto Rico" Microbiol. Res. 2020, 11(2), 45-55; https://doi.org/10.3390/microbiolres11020009; https://www.mdpi.com/2036-7481/11/2/9#
Ortiz Y, Restrepo C, Vilanova-Cuevas B, Santiago-Valentin E, Tringe SG, Godoy–Vitorino F (2020) Geology and climate influence rhizobiome composition of the phenotypically diverse tropical tree Tabebuia heterophylla. PLoS One. 2020 Apr 7;15(4):e0231083. https://doi.org/10.1371/journal.pone.0231083; eCollection 2020; PMID: 32255799;
Natalyia Chorna and Filipa Godoy–Vitorino, A Protocol for the Multi-Omic Integration of Cervical Microbiota and Urine Metabolomics to Understand Human Papillomavirus (HPV)-Driven Dysbiosis, Biomedicines 2020, 8(4), 81; https://doi.org/10.3390/biomedicines8040081; https://www.mdpi.com/2227-9059/8/4/81 PMID:32276347
Vargas-Robles, D., Morales,N., Rodríguez, I., Nieves,T., Godoy–Vitorino, F., Alcaraz, L.D., Pérez, M.E., Ravel,J., Forney, L.J., Domínguez-Bello, M.G., (2020) Vaginal microbiota changes across a gradient of urbanization, Scientific Reports 2020 Jul 27;10(1):12487. doi: 10.1038/s41598-020-69111-x. PMID: 32719372, PMCID: PMC7385657
Lacourt-Ventura MY, Vilanova-Cuevas B, Rivera-Rodríguez D, Rosario-Acevedo R, Miranda C, Maldonado-Martínez G, Maysonet J, Vargas D, Ruiz Y, Hunter-Mellado R, Cubano LA, Dharmawardhane S, Lampe JW, Baerga-Ortiz A, Godoy–Vitorino F, Martínez-Montemayor MM. Soy and Frequent Dairy Consumption with Subsequent Equol Production Reveals Decreased Gut Health in a Cohort of Healthy Puerto Rican Women. Int J Environ Res Public Health. 2021 Aug 4;18(16):8254. doi: 10.3390/ijerph18168254. PMID: 34444002; PMCID: PMC8391519.
Rodríguez-Barreras R, Tosado-Rodríguez E.L., Godoy–Vitorino 2021. Trophic niches reflect compositional differences in microbiota among Caribbean sea urchins. PeerJ 9:e12084 https://doi.org/10.7717/peerj.12084 PMID: 34540373; PMCID: PMC8415288
Foxx AJ, Franco Meléndez KP, Hariharan J, Kozik AJ, Wattenburger CJ, Godoy–Vitorino F, Rivers AR. Advancing Equity and Inclusion in Microbiome Research and Training. mSystems. 2021 Oct 12:e0115121. doi: 10.1128/mSystems.01151-21. PMID: 34636663
Vélez-Torres LN, Bolaños-Rosero B, Godoy–Vitorino F, Rivera-Mariani FE, Maestre JP, Kinney K, Cavallin H. 2022. Hurricane María drives increased indoor proliferation of filamentous fungi in San Juan, Puerto Rico: a two-year culture-based approach. PeerJ 10:e12730 https://doi.org/10.7717/peerj.12730 PMID 35261816
Vera-Urbina, F.; Dos Santos-Torres, M.F.; Godoy–Vitorino, F.; Torres-Hernández, B.A. The Gut Microbiome May Help Address Mental Health Disparities in Hispanics: A Narrative Review. Microorganisms 2022, 10, 763. https://www.mdpi.com/2076-2607/10/4/763
Lee, S., Zhang, A., Acevedo Flores,M.,Ángel Solá, D., Cao, L., Bolanos-Rosero, B. Wang, L., Godoy–Vitorino, Rosario Matos, N., Wang, L. 2022 Prenatal exposure to Hurricane Maria is associated with an altered infant nasal microbiome, The Journal of Allergy and Clinical Immunology: Global June 02, 2022 https://doi.org/10.1016/j.jacig.2022.05.001
Castañeda-Avila MA, Oramas Sepúlveda CJ, Pérez CM, Ramos-Cartagena JM, Acosta Pagán K, Pérez-Santiago J, Godoy–Vitorino F, Ortiz AP. Sex and educational attainment differences in HPV knowledge and vaccination awareness among unvaccinated-sexually active adults in Puerto Rico. Hum Vaccin Immunother. 2022 Jun 13:2077065. doi: 10.1080/21645515.2022.2077065. Epub ahead of print. PMID: 35695750.
Ruiz Barrionuevo JM, Vilanova-Cuevas B, Alvarez A, Martín E, Malizia A, Galindo-Cardona A, de Cristóbal RE, Occhionero MA, Chalup A, Monmany-Garzia AC, Godoy–Vitorino The Bacterial and Fungal Gut Microbiota of the Greater Wax Moth, Galleria mellonella L. Consuming Polyethylene and Polystyrene. Front Microbiol. 2022 Jul 5;13:918861. doi: 10.3389/fmicb.2022.918861. PMID: 35865934; PMCID: PMC9294514.
Reynoso-García, Miranda-Santiago, Meléndez-Vázquez, Acosta-Pagán, Sánchez-Rosado, Díaz-Rivera, Rosado-Quiñones, Acevedo-Márquez, Cruz-Roldán, Tosado-Rodríguez, Figueroa-Gispert and Godoy–Vitorino, A complete guide to human microbiomes: body niches, transmission, development, dysbiosis and restoration, Front. Syst. Biol., 22 July 2022 Sec. Integrative Genetics and Genomics, 22 july 2022, https://doi.org/10.3389/fsysb.2022.951403 **All authors are grad students in human microbiome class
Nguyen TT, Shin DH, Sohoni S, Singh SK, Rivera-Molina Y, Jiang H, Fan X, Gumin J, Lang FF, Alvarez-Breckenridge C, Godoy-Vitorino F, Zhu L, Zheng WJ, Zhai L, Ladomersky E, Lauing KL, Alonso MM, Wainwright DA, Gomez-Manzano C, Fueyo J. Reshaping the tumor microenvironment with oncolytic viruses, positive regulation of the immune synapse, and blockade of the immunosuppressive oncometabolic circuitry. Journal for ImmunoTherapy of Cancer 2022;10:e004935. doi: 10.1136/jitc-2022-004935, PMID: 35902132
Dickerson, F., Dilmore, A.H., Godoy–Vitorino, F., Nguyen, T.T., Paulus, M., Pinto-Tomas, A.A., Moya-Roman, C., Zuniga-Chaves, I., Severance, E.G., Jeste, D.V., 2022. The Microbiome and Mental Health Across the Lifespan, in: Curr Topics Behav Neurosci. doi:10.1007/7854_2022_384, PMID: 35947353
Sahana Kuthyar, Karli Watson, Shi Huang, Lauren J.N. Brent, Michael Platt, Julie Horvath, Janis Gonzalez, Melween Martínez, Filipa Godoy–Vitorino, Rob Knight, Maria Gloria Dominguez-Bello*, Katherine R. Amato* Limited microbiome differences in captive and semi-wild primate populations consuming similar diets, FEMS Microbiology Ecology, fiac098, 01 September 2022 https://doi.org/10.1093/femsec/fiac098 PMID: 36047944
Ortiz Ana P., Acosta-Pagán Kimil T., Oramas-Sepúlveda Carla, Castañeda-Avila Maira A., Vilanova-Cuevas Brayan, Ramos-Cartagena Jeslie M., Vivaldi José A., Pérez-Santiago Josué, Pérez Cynthia M., Godoy-Vitorino Filipa; Oral microbiota and periodontitis severity among Hispanic adults, Frontiers in Cellular and Infection Microbiology 12,2022, https://www.frontiersin.org/articles/10.3389/fcimb.2022.965159 DOI=10.3389/fcimb.2022.965159, ISSN=2235-2988

SELECTED HONORS/AWARDS

2022

Honorary Fellow member

, Applied Microbiology International / Society for Applied Microbiology (UK) 

https://sfam.org.uk/

2021 Godoy's Microbiome Lab, Featured by the American Society for Microbiology (ASM): Microbiology Is … Your Microbiome, Your Health https://asm.org/Videos/Microbiology-Is-Your-Microbiome,-Your-Health

2020-present President, American Association for the advancement of Science (AAAS) Caribbean Division  https://www.aaascd.pr/

2020 Portrayed in Ciencia Puerto Rico, Seeds of Success "Women in STEM" collection https://www.cienciapr.org/es/seeds-success/filipa-godoy-vitorino

2020-present Mentor Graduate Women in Science, Puerto Rico Chapter

2019 Distinguished Faculty, UPR Medical Sciences, Associate Deanship for Biomedical Sciences and Graduate Programs, San Juan Puerto Rico, May 14 2019 (elected by majority graduate student votes)

2019 First place Award, Outstanding oral presentation by a Researcher, Puerto Rico Clinical Research Summit: Connecting the World, Sheraton Puerto Rico Hotel & Casino, San Juan Puerto Rico, May 10 2019

BOOK CHAPTERS / TECHNICAL REPORTS

Godoy-Vitorino, F. and Toledo-Hernandez, C. (2018) Reef building corals as a tool for climate change research in the genomics era. In M. Kloc, J. Z. Kubiak (eds.), Marine Organisms as Model Systems in Biology and Medicine, Results and Problems in Cell Differentiation 65,Chapter 23 , ISBIN 978-3-319-92485-4, https://doi.org/10.1007/978-3-319-92486-1_23
National Library of Medicine (U.S.). Board of Regents, A platform for biomedical discovery and data-powered health : National Library of Medicine strategic plan 2017-2027 [Bethesda, Md.] : U.S. Dept.of Health and Human Services, Public Health Service, National Institutes of Health, National Library of Medicine, (2018) pp39, NLM ID: 101721534 [Book] Co-Author. My working group aimed to build a report (10-year plan) with recommended strategies for NLM to facilitate and accelerate discovery inbiomedical discovery and translational science.
Dominguez-Bello M., Godoy-Vitorino F. (2013) Infant Microbiome. In: Nelson K. (eds) Encyclopedia of Metagenomics. Springer, New York, NY Chapter: 304271, pp.280- 285, DOI: 1007/978-1-4899-7475-4_405

SELECTED HONORS/AWARDS

Awardee Advanced Research Grant, Puerto Rico Science, Technology and Research Trust 2019
Editorial Board Member: Gynecology and Pelvic Medicine (ISSN 2617-4499; Gynecol Pelvic Med; GPM; gpm.amegroups.com) http://gpm.amegroups.com/user/view/82041
Chair, Human Microbiome Session, 1st ISME Latin America Meeting, Valparaiso, Chile, September 11-14 2019, https://isme-la2019.org
Member of the Graduate Committee of the UPR School of Medicine, Microbiology and Medical Zoology Graduate Program 2019- present
Member of the UPR-Medical Sciences Campus, Institutional Review Board (IRB) (2019-2021)
Participant Member "The Cancer Systems Microbiome Innovation Lab" April 29- May 3rd 2019, Beaver Hollow Conference Center located, Java Center, Buffalo,NY
Board of Directors American Association for the Advancement of Science (AAAS) Caribbean Division – Nov2018-present
The microbiota Vault – A global microbiota vault to conserve long-term health for humanity – http://www.microbiotavault.org/ – team member – coordinate support from global institutions
Productivity Award – 1st place, Puerto Rico Idea Network for Biomedical Research Excellence – research projects Publication Awards – August 2018
Dec 1st 2018 Puerto Rico Society for Microbiology (SMPR), Americo Pomales Award, 1st place Undergraduate Poster Presentation at the Sixth Student Research Symposium: Passing the torch of Ethics and Research to the next generation,  Brayan Vilanova "The probiotic microbiota of fermented tropical beverages: Mauby and Tepache" 
Dec 1st 2018 Puerto Rico Society for Microbiology (SMPR), Americo Pomales Award, 2nd place graduate Poster Presentation at the Sixth Student Research Symposium: Passing the torch of Ethics and Research to the next generation,  Frances Vazquez "Anogenital bacteria associated to HPV infections in Puerto Rican women"
Organizing Committee ISME Latin America, August 2019 , Chile
ISME – International Board of Embassadors– International Society for Microbial Ecology (2018- present)
Member of NIH's National Library of Medicine's (NLM) Literature Selection Technical Review Committeefor selection of journals for PubMed indexation (2015-2019)
2018 American Association for Cancer Research (AACR) Minority Faculty Scholar in Cancer Research Award (AACR-MICR Faculty Scholar Award)
Visiting Faculty Award, IDeA Network for Biomedical Research Excellence (PRINBRE), 02/2018 Proj title: Microbial Pathway Reconstructions in cervical samples associated to HPV
Host: Dr. Rob Knight's Dept. Pediatrics Center for Microbiome Innovation, University of California-San Diego, La Jolla, CA
ASM/NSF LINK-UFRI Award Undergraduate Faculty Research Initiative (UFRI) Fellowship – supported by the American Society for Microbiology (ASM) and the National Science Foundation (NSF) under the Leaders Inspiring Networks and Knowledge (LINK) program. Recognition at the National level, as a model of excellence in STEM research and for commitment to student learning.
American Society for Microbiology Minority Awardto Filipa Godoy-Vitorino, June 2015, New Orleans, Louisiana
Carl Storm Fellowship– Invited Speaker at the Gordon Research Conference in Applied and Environmental Microbiology, Mount Holyoke, MA – Summer 2013
Millis-Colwell Exchange Program Award for Early Career Scientists, American Society for Microbiology. This Award is given to only 1 US researcher each year. Award to participate in the Australian Society for Microbiology Annual Meeting and visit the Australian Centre for Ecogenomics at the University of Queensland.
American Society for Microbiology –Young Investigator Oral Presentation, Session on Ecology and Evolution of Unicellular Eukaryotes, San Francisco, CA – may 2012
NSF National Science Foundation/DBI- Postdoctoral Research Fellowship – 2009-2012
NSF National Science Foundation/DEB – Doctoral Dissertation Improvement Grant – 2007-2009