The Department of Anesthesiology's four year educational program is designed to train you as a consultant in anesthesiology and prepare you for the challenges of a life-long career in this exciting field. Our goal is to educate superior anesthesiologists able to handle any clinical situation competently and confidently.
The clinical base year (CBY or PGY-1) provides a broad foundation of medical knowledge and clinical experience upon which subsequent training builds. This is definitely a challenging and rewarding first year.
Clinical Base Year (CBY)
All CBY rotations occur during the PGY-1. Rotations include:
Internal Medicine: 2 months
General Surgery: 2 months
Medical ICU: 1 month
Pediatrics: 2 months
Obstetrics/Gynecology: 1 month
Neurology or Neurosurgery: 1 month
Emergency Medicine: 1 month
Anesthesia: 1 month
ENT: 1 month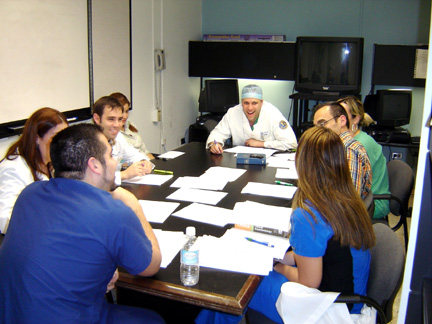 Responsible department staff/faculty members for CBY
Anesthesia, University Hospital; Miguel A. Marrero, MD; Program Director and Chairman; Board Certified in General Anesthesia, Sub-specialty in Pediatric Anesthesiology
General Surgery, University Hospital; Juan J. Lojo, MD; Chairman Department Surgery; Board Certified in General Surgery
Internal Medicine, University Hospital; Carlos Gonzalez Oppenheimer, MD; Vice-Chair for clinical Affairs; Board Certified in Internal Medicine
Medical-Surgical ICU, University Hospital; Donald Dexter, MD; Director ICU; Board Certified in Internal Medicine and Critical Care Medicine.
NICU, University Pediatric Hospital; Marta Valcarcel, MD; Director NICU; Board certified in Pediatrics and Perinatal and Neonatal Medicine.
PICU, University Pediatric Hospital; Ricardo Garcia, MD, Board Certified in Pediatrics and CCM.
Trauma Center, PR Medical Center; Pablo Rodríguez, MD; Director Unit; Board Certified in Surgery and Critical Care.
Neurosurgery Service, University Hospital; Ricardo H. Brau, MD; Chief Service; Board Certified in Neurosurgery.
Cardio Vascular Surgical ICU, CV Center of PR; Efraín Defendini , MD; Chief Service; Board Certified in General Surgery and Thoracic and CV Surgery.
Pediatric Cardiac Surgery, CV Center of PR; Enrique Marquez, MD; Chief Section; Board Certified in General Surgery, Pediatric Surgery, and Thoracic and CV Surgery.
Obstetric and Gynecology, University Hospital; Juana Rivera, MD; Acting Chair; Board Certified in Ob and Gynecology.
Neurology Service, University Hospital; Jesus Velez, MD Chief of Neurology, Boar Certified in Adult and Pediatric Neurology
Cardiology Service, CV Center of Puerto Rico; Mario Garcia-Palmiery, MD, Chief of Cardiology, Board Certified in Internal Medicine and Cardiology
Family Medicine, University of Puerto Rico Program; Rebeca Rodriguez, MD, Program Director, Board Certified in Family and Sports medicine
The Clinical Anesthesiology program encompasses the CA-1 through CA-3 (PGY-2 through PGY-4) years. The CA-1 year begins with the Introduction to Anesthesiology Curriculum, a combination of closely supervised clinical training, academic and practical instruction sessions designed to rapidly introduce you to the fundamentals of safe patient care. Goals and objectives are clearly defined, and individual resident progress is closely monitored. As your competence and confidence grow you will function with greater independence and care for increasingly complex patients. Midway through the CA-1 year you will begin subspecialty rotations, working closely with faculty members extensively trained and experienced in their subspecialty area. The CA-2 year builds technical expertise, clinical judgment, decision-making skills and confidence.
The CA-3 year offers great flexibility in its goal of providing residents with extensive experience caring for the most critically ill patients. Advanced rotations are available throughout the spectrum of subspecialties, with experience gained in such broad ranging areas as operating room management and techniques of transesophageal echocardiography and neuro-monitoring. A six-month research track is available for residents considering careers in scientific research.
The program strictly follows the ACGME Anesthesiology Residency Review Committee program requirements.