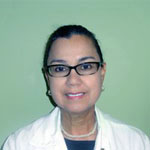 Professor
Department of Pathology and Laboratory Medicine
Program: Medicine, Pathology Residency
Telephone: (787) 758-2525 ext. 1359, 1331
Fax: (787) 754-0710
E-mail: anarda.gonzalez@upr.edu

Dr. Anarda González-Rodríguez obtained her medical degree from the Universidad de Zaragoza in Spain.  She completed a residency in Anatomic Pathology and a Fellowship in Oncologic Pathology at the University of Puerto Rico affiliated hospitals, followed by postgraduate studies in Electron Microscopy at Michigan Cancer Foundation.  Twelve years later, she completed a residency in Clinical Pathology. She is board certified in Anatomic and Clinical Pathology.  She is Fellow of the College of American Pathologists and a member of the Puerto Rico Gastroenterology Society, where she has served as secretary.
Dr. González-Rodríguez is Professor of Pathology at the University of Puerto Rico School of Medicine, where she is the Electron Microscopy specialist and the course coordinator of the Nephropathology second year course.  Her duties also include supervising the pathology residents in the Clinical Chemistry, Surgical Pathology, Cytopathology, Autopsy and Electron Microscopy rotations. She also has teaching duties with the Rheumatology and Nephrology Fellows.
Dr. González-Rodríguez has occupied leadership positions as Academic Senator of the Medical Sciences Campus and as course coordinator of the second year medicine course. She played a crucial role in establishing the Immunohistochemistry Laboratory and the Electron Microscopy Unit at the Medical Sciences Campus.
Her interest areas include Electron Microscopy with emphasis in nephritis and Hermansky Pudlak Syndrome and surgical oncologic pathology.