Manuscripts recently published about the Department of Physiology and the discipline of Physiology:
Physiology: a world perspective.
Sieck GC, El-Wazir Y, Escobales N, Kurata K, Machada B.
Physiology (Bethesda). 2013;28(4):210-1. doi: 10.1152/physiol.00028.2013.
The Department of Physiology of the UPR-School of Medicine: history and contribution to the physiological sciences in Puerto Rico 1950-2010.
Escobales N.
P R Health Sci J. 2012;31(1):3-13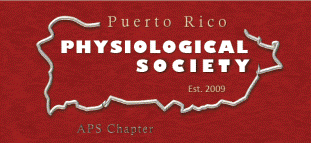 Important links of our Chapter:
American Physiological Society > Puerto Rico
www.the-aps.org › … › chapters /‎
Fourth Annual Meeting of the Puerto Rico Physiological Society
Ponce-School of Medicine, Ponce, PR   February 8, 2014
More information at: Puerto Rico Physiological Society
www.psm.edu/prps/‎…
Puerto Rico Physiological Society | Facebook
https://www.facebook.com/…/Puerto–Rico–Physiological–Society/137615…‎
Fifth Annual Meeting of the Puerto Rico Physiological Society
Sixth Annual Meeting of the Puerto Rico Physiological Society, 2016