Sabzali Javadov, Professor
Degrees:
MD:  Russian Medical University, Moscow, Russia (1983)
PhD: Cardiology Research Center, Moscow, Russia (1986)

Training:
Magdeburg Medical Academy, Germany (1987)
National Institute of Cardiology, Hungary (1991-1992)
University of Bristol, England (1997-2001)

Tel:  787-7582525 ext. 2909 (Office); 2688 & 1266 (Lab)
Office/Laboratory: A-668, A-672, A-674; UPR Medical Sciences Campus
E-mail: sabzali.javadov@upr.edu
Research Interests
We elucidate molecular mechanisms of mitochondria-mediated cardiac dysfunction during coronary heart diseases such as myocardial infarction (MI) and heart failure (HF). Timely restoration of coronary perfusion known as reperfusion is the only effective therapeutic intervention for protecting the heart from MI (ischemic injury). Currently, there is no effective therapy for preventing cardiac ischemia (infarction)-reperfusion (IR) injury. The loss of mitochondrial function plays a crucial role in IR-induced cell death suggesting that protection and restoration of mitochondrial function is pivotal to cell survival in the heart. However, limited knowledge of the mechanisms underlying mitochondria-mediated cell death obscures the development of new mitochondria-targeted cardioprotective compounds. The main goal of these studies is to develop new therapeutic strategies to prevent myocardial injury, and improve clinical outcomes in patients with post-MI and HF through targeting mitochondria.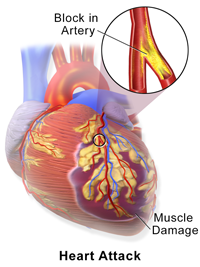 Cardiac IR increases Ca2+, ROS, and Pi levels in mitochondria that, in turn, induce permeability transition pore (PTP) opening in the inner mitochondrial membrane (IMM). In addition, high mitROS oxidize cardiolipin (CL), a mitochondrial signature phospholipid, which, in turn, may facilitate degradation of supercomplexes (SCs), large multiprotein complexes containing individual electron transport chain (ETC) complexes. According to the solid-state model, the assembly of SCs provides high-efficiency electron flux throughout the ETC; it increases ATP synthesis and significantly reduces electron leakage and mtROS production due to short diffusion distances between ETC complexes. The cause-and-effect relationship between PTP induction and SC degradation has not yet been established.
Based on our recent studies (Jang et al, 2017, Jang & Javadov, 2017), we propose that the PTP opening causes disintegration of mitochondrial SCs, leading to diminished energy metabolism and cell death during cardiac IR. PTP-induced mitochondrial swelling induces remodeling of the inner mitochondrial membrane and thus, sensitizes CL to the ROS attack leading to degradation of SCs. Understanding the role of PTP-dependent and PTP-independent ROS in the disintegration of SCs can provide new insights into the molecular basis of mitochondria-mediated cell death during cardiac IR. Importantly, elucidation of pathophysiological consequences of oxidative stress and validation of molecular targets in mitochondria are very important for the development of new cardioprotective agents. We propose that simultaneous inhibition of PTP-induced mitochondrial swelling and ROS production can exert synergistic effects against cardiac IR injury and thus, enable us to develop new therapeutic strategies targeting mitochondria.
Our research aims to:
Investigate association between PTP opening, CL oxidation and SC degradation with progression of MI. Also, hearts of WT and tafazzin knockdown mice are subjected to ex-vivo IR to distinguish changes in SC assembly induced by CL oxidation versus CL deficiency.
Examine the cause-and-effect relationship between the PTP opening and SC degradation in response to oxidative stress. For this, we investigate cyclophilin D-silenced cardiomyocytes or mitochondria subjected to in vitro oxidative stress. In addition, we treat cardiac mitochondria with oxidized CL in the presence of PTP inducers/blockers to reveal a causal role of PTP versus CL oxidation in SC degradation.
Determine the role of the PTP-ROS-SCs crosstalk in mitochondria-targeted cardioprotection against cardiac IR injury. We investigate the possible synergistic effects of concurrent inhibition of PTP-induced mitochondrial swelling and mtROS production on reperfused/non-reperfused post-infarcted hearts.
Funding: National Institute of General Medical Sciences, National Institutes of Health, USA
Lab Personnel/Students: Postdoctoral Researcher: Sehwan Jang; Research Assistant: Rafael Vázquez; Graduate Students: Rebecca Parodi, Xavier Chapa, Keishla Rodriguez; Undergraduate students: Sara Díaz, Roberto Guzmán, Jesús Vega
Publications (since 2012 selected)
Chapa-Dubocq X, Makarov V, Javadov S. (2017) Simple kinetic model of mitochondrial swelling in cardiac cells. J Cell Physiol. in press
Javadov S. Chapa-Dubocq X, Makarov V (2017) Different approaches to modeling analysis of mitochondrial swelling. Mitochondrion. PMID: 28802667, in press
Nuñez RE, Javadov S, Escobales E. (2017) Angiotensin II-preconditioning is associated with increased PKCε/PKCδ ratio and prosurvival kinases in mitochondria. Clin Exp Pharmacol Physiol. 44:1201-1212. PMID: 28707739
Jang S, Javadov S. (2017) Association between ROS production, swelling and the respirasome integrity in cardiac mitochondria. Arch Biochem Biophys. 630: 1-8. PMID: 28736227
Parodi-Rullán RM, Chapa-Dubocq X, Rullán PJ, Jang S, Javadov S. (2017) High sensitivity of SIRT3 deficient hearts to ischemia-reperfusion is associated with mitochondrial abnormalities. Front Pharmacol. 8:275. PMID: 28559847
Javadov S, Jang S, Parodi-Rullan R, Khuchua Z, Kuznetsov AV. (2017) Mitochondrial permeability transition in cardiac ischemia-reperfusion: whether cyclophilin D is a viable target for cardioprotection? Cell Mol Life Sci. 74:2795-2813. PMID: 28378042
Kuznetsov AV, Javadov S, Saks V, Margreiter R, Grimm M. (2017) Synchronism in mitochondrial ROS flashes, membrane depolarization and calcium sparks in human carcinoma cells. Biochim Biophys Acta. 1858:418-431. PMID: 28279675
Huang Y, Powers C, Moore V, Schafer C, Ren M, Phoon CK, James JF, Glukhov AV, Javadov S, Vaz FM, Jefferies JL, Strauss AW, Khuchua Z. (2017) The PPAR pan-agonist bezafibrate ameliorates cardiomyopathy in a mouse model of Barth syndrome. Orphanet J Rare Dis. 12:49. PMID: 28279226
Jang S, Lewis TS, Powers C, Khuchua Z, Baines CP, Wipf P, Javadov S. (2017) Elucidating mitochondrial ETC supercomplexes in the heart during ischemia-reperfusion. Antioxid Redox Signal. 27: 57-69. PMID: 27604998
Barreto-Torres G, Javadov S. (2016) Possible role of interaction between PPARα and cyclophilin D in cardioprotection of AMPK against in vivo ischemia-reperfusion in rats. PPAR Res. 2016:9282087. PMID: 27051413
Rodríguez-Reyes N, Rodríguez-Zayas AE, Javadov S, Frontera WR. (2016) Single muscle fiber contractile properties in diabetic rat muscle. Muscle Nerve. 53:958-64. PMID: 26598963
Javadov S, Jang S, Rodriguez-Reyes N, Rodriguez-Zayas AE, Soto Hernandez J, Krainz T, Wipf P, Frontera W. (2015) Mitochondria-targeted antioxidant preserves contractile properties and mitochondrial function of skeletal muscle in aged rats. 6:39469-81. PMID: 26415224
Javadov S, Escobales E. (2015) The role of SIRT3 in mediating cardioprotective effects of RAS inhibition on cardiac ischemia-reperfusion. J Pharm Pharm Sci. 18: 547-50. PMID: 26517140
Huang Y, Powers C, Madala SK, Greis KD, Haffey WD, Towbin JA, Purevjav E, Javadov S, Strauss AW, Khuchua Z. (2015) Cardiac metabolic pathways affected in the mouse model of Barth syndrome. PLoS One, 10: e0128561; PMID: 26030409
Zhdanov DD, Fahmi T, Wang X, Apostolov EO, Sokolov NN, Javadov S, Basnakian AG. (2015) Regulation of apoptotic endonucleases by mitochondrial EndoG. DNA Cell Biol. 34:316-26; PMID: 25849439
Javadov S (2015). The calcium-ROS-pH triangle and mitochondrial permeability transition: challenges to mimic cardiac ischemia-reperfusion. Front Physiol. 6:83; PMID: 25852570
Barreto-Torres G, Soto Hernández J, Jang S, Rodríguez-Muñoz AR, Torres-Ramos CA, Basnakian AG, Javadov S. (2015) The beneficial effects of AMP-kinase activation against oxidative stress are associated with prevention of PPARα/cyclophilin D interaction in cardiomyocytes. Am J Physiol Heart Circ Physiol. 308:H749-H758; PMID: 25617357
Kuznetsov AV, Javadov S, Sickinger S, Frotschnig S, Grimm M. (2015). H9c2 and HL-1 cells demonstrate distinct features of energy metabolism, mitochondrial function and sensitivity to hypoxia-reoxygenation. Biochim Biophys Acta. 1853: 276–284; PMID: 25450968
Escobales E, Nuñez RE, Jang S, Parodi-Rullan R, Ayala-Peña S, Sacher JR, Skoda EM, Wipf P, Frontera W, Javadov S. (2014) Mitochondria-targeted ROS scavenger improves post-ischemic recovery of cardiac function and attenuates mitochondrial abnormalities in aged rats. J Mol Cell Cardiol. 77: 136-146; PMID: 25451170
Nuñez R, Castro M, Javadov S, Escobales N. (2014) Angiotensin II and ischemic preconditioning synergize to improve mitochondrial function while showing additive effects on ventricular post-ischemic recovery. J Cardiovasc Pharmacol. 64:172-179. PMID: 24705171.
Jang S, Javadov S. (2014) Inhibition of JNK aggravates the recovery of rat hearts after global ischemia: the role of mitochondrial JNK. PLoS One. 9: e113526; PMID: 25423094.
Javadov S, Jang S, Agostini B. (2014) Crosstalk between mitogen-activated protein kinases and mitochondria in cardiac diseases: therapeutic perspectives. Pharmacol Ther. 2014 144: 202-225; PMID: 24924700.
Javadov S. (2014) Cyclosporin A in left ventricular remodeling after myocardial infarction. Am J Physiol Heart Circ Physiol. 306:H777; PMID: 24583825
Soto Hernández J, Barreto-Torres G, Kuznetsov AV, Khuchua Z, Javadov S. (2014) Crosstalk between AMPK activation and angiotensin II-induced hypertrophy in cardiomyocytes: the role of mitochondria. J Cell Mol Med. 18:709-720; PMID: 24444314
Javadov S, Kuznetsov AV. (2013) Mitochondrial permeability transition and cell death: the role of cyclophilin D. Front Physiol. 4:76; PMID: 23596421
Kuznetsov AV, Javadov S, Guzun R, Grimm M, Saks V. (2013) Cytoskeleton and regulation of mitochondrial function: the role of beta-tubulin II. Front Physiol. 4:82; PMID: 23630499
Barreto-Torres G, Parodi-Rullan R, Javadov S. (2012) The role of PPARα in metformin-induced attenuation of mitochondrial dysfunction in acute cardiac ischemia/reperfusion in rats. Int J Mol Sci. 13:7694-7709; PMID: 22837722
Parodi-Rullan R, Barreto-Torres G, Ruiz L, Casasnovas J, Javadov S. (2012) Direct renin inhibition exerts an anti-hypertrophic effect associated with improved mitochondrial function in post-infarction heart failure in diabetic rats. Cell Physiol Biochem. 29:841-850; PMID: 22613984
Complete List of Published Work:
http://www.ncbi.nlm.nih.gov/sites/myncbi/1TOl5Vo8SuCkl/bibliography/43747921/public/?sort=date&direction=descending